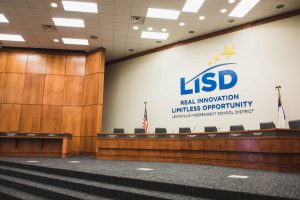 By Leopold Knopp, Contributing Writer
At its final regular meeting of the school year on June 10, the Lewisville ISD Board of Trustees approved just over $2 million in campus improvements and voted to give superintendent Kevin Rogers the authority to replace Hebron High School's principal without board oversight. The measure passed 5-1, with only Jenny Proznik dissenting. Board member Angie Cox was absent from the meeting.
But the board's first action items were about saving money.
Board members approved adopting a new debt services schedule, which involves selling a portion of the district's 2011 unlimited tax refunding bonds prior to maturity. The full debt service schedule, which can be found in background material, will save the district a little more than $1.2 million in interest payments by 2027.
Board vice president Tracy Scott Miller said it represented a significant step for the district.
"This is a journey we've been on trying to show the district, the taxpayers and the citizens that we're reducing our debt load where we can, and so this is, I think, our first big step in that direction, other than refinancing," he said.
In its next moves, the board approved the issue and sale of $125 million in 2019 bonds to pay for projects related to the 2017 bond referendum, as well as giving the green light on several new projects provided for in that same referendum. All totaled, the board approved a $625,000 contract to purchase and install new security cameras, $850,000 for data storage for these security cameras, $499,900 for new Apple TVs for classroom use and $176,000 for new streaming technology on campuses. All of these projects are on budget, according to background material.
The board approved new hazardous bus routes relating to Mill Street Elementary School in Lewisville, which will host its first year in the 2020 school year. While the state requires school districts to provide bussing to students more than two miles away from their school, hazardous bus routes are a mechanism to allow additional bussing for students who are within that distance but for whom a walk presents some kind of danger. The new routes will prevent students from having to cross I-35E and/or Business 121 to get to school.
As they have each meeting since March, the board received an update from Balfour Beatty on the construction of the elementary school, which is behind schedule. Balfour Beatty Vice President Jon Moreau said construction is still behind schedule. The projected completion date is Aug. 18, but the first day of school is Aug. 13.
"We still have a week to pull out of it," Moreau said.
The board's final action items of the year each saw rare dissenting votes. The first was a modification to the district's employee leave policy. The modification requires all of an employee's paid time to be exhausted before hardship leave is available and reduces the number of hardship days available from 20 to 10. Additionally, the employee will be paid half their usual rate for hardship days — previously, the average cost for a substitute was taken from the employee's salary for such days.
Proznik said that while some of the changes make sense, she would not vote for the policy change because it reduces hardship pay.
"We differentiate ourselves by the benefits we provide as a district to our employees, and if an extra 10 days of hardship pay are how we do it, then I'm for differentiating ourselves in that way," she said. "I appreciate the 90 days unemployment before this falls into place, I appreciate the exhaustion of all paid leave, but I'm not willing to take more money from our employees when they take a hardship."
Miller and board member Kristi Hassett also said they struggled with the policy, but ultimately voted for it. The measure passed 5-1, with Proznik the lone "no" vote.
Lastly, the board approved a resolution allowing Rogers to hire a new principal for Hebron High School. New hires are usually subject to board approval, but with no July board meeting and a late resignation, the board decided it was forced to allow Rogers to conduct the hire while skipping this step. Proznik again dissented, calling it a dereliction of the board's duty.
"We have never granted this authority for a high school principal, this board has not, and the high school principal at Hebron is someone who would not only be a leader for that school, but would be a leader for that feeder pattern … and I'm just not willing to abdicate my responsibility when it comes to Hebron High School," she said. "I believe that administration is thoughtful. It is not a comment on them. It is that I raised my hand and I said I would do a job, and this is part of that job."
The measure passed 5-1.
During informational session, the board received its final legislative update of the session, this one delivered by board secretary Allison Lassahn. Lassahn said many of LISD's priorities did not get addressed, but school financing did get a facelift in the form of House Bill 3. However, Lassahn said the district still didn't know exactly what the bill's effects will be.
"As of this moment, we do not know exactly how this bill will affect LISD. We do expect some measure of relief, so to speak, but it is not yet clear to what extent that will be," she said. "Our staff is working diligently to find out how this will affect our upcoming budget."
Rogers said he was thankful the district's deadline to finalize its budget is Aug. 31 instead of July 1 like some other school districts.
"It's sad that there's still a lot of questions about a bill that was passed three weeks ago, questions that our CFO and other CFOs across the state have been working frantically to try and get answers to," he said. "I'm extremely grateful that LISD is not on a July 1 budget cycle. We would be in trouble."
The Lewisville ISD Board of Trustees meets once monthly, usually on the second Monday of the month, with several informational sessions in between. These meetings are at 7 p.m. at the Lewisville ISD Administrative Center in Lewisville and are open to the public.
Editor's note: A previous version of this article erroneously stated that LISD would save a little less than $6.8 million with its new debt service schedule. This is incorrect. $6.8 million is the total amount of money that would have been owed on the $5.5 million in bonds that are being paid off before maturity, including a little more than $1.2 million in interest that would have accumulated by 2027. That $1.2 million is the amount that is actually being saved by this move, and the story has been corrected to reflect that.