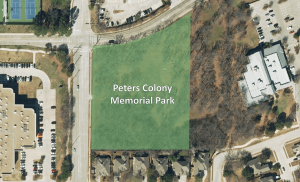 The town of Flower Mound is inviting residents to give their ideas about a future park at an upcoming Public Input Meeting next week.
The meeting about the master planning of Peters Colony Memorial Park will be held on June 27 at 7 p.m. at Flower Mound Town Hall, 2121 Cross Timbers Road, according to a news release from the town. The information gathered during the meeting will be used for future consideration in creating several different concepts for the heavily treed 3.3-acre park, located on the corner of Old Settler's Road and Peters Colony, next to the Flower Mound Public Library. The parkland was acquired in January 2017.
For more information, click here, call 972-874-6278 or email the Park Development Manager at [email protected].