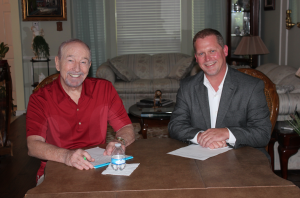 Although the Texas primary is not until March 2020, several Denton County residents are preparing to campaign for elective office. One of them is Danny Fletcher, a veteran police sergeant with the Denton Police Department.
Sgt. Fletcher has announced his candidacy for Constable in Precinct 4, a position currently being held by Tim Burch, who is running for reelection.
Texas Constables are constitutionally authorized peace officers elected by precinct. There are six Constables in Denton County. They perform patrol functions and conduct criminal investigations, but, the main duty of most constables is to serve as officer of the Justice of the Peace Courts. In that capacity, Constables provide bailiffs for the JP Courts and serve subpoenas and other official papers.
In some ways, a Constable's authority considerably overlaps with that of the County Sheriff, especially with respect to serving civil documents as well as criminal warrants. Sgt Fletcher, a Denton resident, came over for an interview to provide information on his background and his reasons for running. In addition, he sent the following short bio:
"Danny Fletcher has served the Denton County community as a law enforcement officer with honor and integrity for over twenty years. Danny has served at the Denton Police Department as an officer, investigator, federal task force officer, hostage negotiator, supervisor, and instructor. He has been deputized by the U.S. Marshals, FBI, and DEA. He is currently a Sergeant in the Criminal Investigations Division of the Denton Police Department. Danny serves as the Commander of the Hostage Negotiations Unit.
"Danny is originally from Oklahoma. He earned a Bachelor of Arts in Criminal Justice from East Central University and graduated as Salutatorian from Tarrant County Junior College's 86th Basic Peace Officer Academy. He currently holds a Master Peace Officer Certification. Danny is a graduate of and was selected as the President of the 112th School of Police Supervision at the Institute for Law Enforcement Administration. Sgt Fletcher is also a former President of the Denton Police Officer's Association."
Precinct 4 covers almost 370 square miles and has a rapidly growing population. The Denton County Commissioners Court is currently planning to redraw some precinct boundaries in the county.