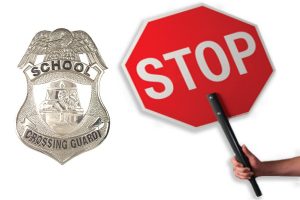 Against the recommendation of Police Chief Andy Kancel, the Flower Mound Town Council voted 3-2 to cancel the town's contract with All City Management Services (ACMS) for school crossing guards effective Jan. 1, 2020.
The Police Department oversaw the program prior to the original contract with ACMS in 2017. The council had voted to extend the contract in April, prior to the May election. A survey by ACMS of the guards– with a 34-percent response rate– formed a basis for the re-examination of the issue.
Council member Jim Engel requested the issue be reassessed. He said some crossing guards have concerns; in addition to a fear of repercussions, if those concerns are expressed.
"I also met with the guards and there were four surveys not included in the results and they're scared for their jobs … and they have stories," said Engel. "In April I had 10 guards in my house. These guards are scared for their jobs and are scared of retaliation."
Council member Ben Bumgarner said he also met with several dissatisfied crossing guards, "who'd reached out to me before the election and then again after I got elected."
Included in the complaints against the California-based company were: lack of staffing levels; non-responsive supervisor personnel (the supervisor involved was terminated); and, background checks for new hires (Kancel answered it was a response-time issue for two guards).
"I want to stick on our children's safety in crosswalks," said Mayor Steve Dixon.
"I have yet to talk to any single guard about anything that isn't anecdotal," said Council member Jim Pierson. "Putting police officers in a crosswalk makes no sense."
He recommended amending the ACMS contract to address the valid concerns.
Deputy Mayor Pro Tem Claudio Forest agreed, saying: "If there's problems with the contract, then that's on us. Doing a third-party survey, makes a lot of sense and that's what we should do. As long as the safety of our children is the main focus, that's what's important."
Of the 21 complaints from guards, upon investigating by the police department, only five were substantiated– two were supervisor-related issues which led to termination and three were staffing issues. None were related to child safety, Kancel reported.
He said the option of having LISD supervise the crossing guard program was declined by Superintendent Dr. Kevin Rogers.
Kancel told council members that it will be difficult for his department to provide the same level of service and supervision that ACMS is providing.
He said the police department is currently short 10 police officers and the potential for mandatory overtime following a 12-hour shift to cover for absent/missing crossing guards affects the morale of the officers.
In addition, the cost of a crossing guard is one-third of the amount for a police officer.
"The ACMS contract is a good investment for the community, based on the current [staffing] situation," said Kancel. "I haven't heard anything substantial enough to pull-the-plug, so I recommend keeping the contract with ACMS. Ninety-days is not long enough to bring on a new program."
He added that officers who have visited crosswalk sites to get feedback from guards: "We received only positive information back from them."
Mayor Steve Dixon asked how many safety-specific issues have been brought before the town.
The incident of a child tripping in a crosswalk, after which the parent took the child for medical attention, which incorrectly was turned in to a child being hit by a car was recounted.
"We need to keep our eye on first responder response," Kancel said.
He said in 2015-16, crossing guards maintained a minimum required staffing level of 95-percent and required 1,232 hours of police officers filling in when there was a no-show.
In 2018-19, ACMS maintained a 99.9-percent minimum staffing level and only 13.5 hours were staffed by a police officer.
Kancel said the police department needs to be spending time hiring and training officers, not crossing guards.
Engel, Bumgarner and Mayor Pro Tem Sandeep Sharma voted to terminate the ACMS contract.