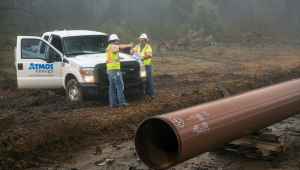 Atmos Energy crews and contractors will oversee a controlled natural gas release Tuesday in Northlake that may cause people in the area to smell the odor of natural gas.
Gas release is a normal part of natural gas pipeline maintenance and allows employees to work on it safely. Crews will be on site to monitor the process as it is vented into the atmosphere, according to a news release from the town of Northlake. The work will begin around 10 a.m. and continuing throughout the day near the future home of the Pecan Square community, south of FM 407 at North Pecan Parkway.
Atmos Energy customers will not be affected while the maintenance work is being performed, according to the town. The Argyle Fire Department, Justin Fire Department, Denton County Emergency Services and city officials have been advised of the controlled release.