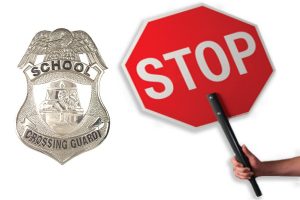 The question surrounding the administration of Flower Mound's crossing guards that was raised during the April 17 Town Council meeting, was answered on Monday's Town Council meeting.
As of the 2017-18 academic year, All City Management Services (ACMS) will assume the management of the town's crossing guards– currently 51 guards– from the Flower Mound Police Department.
During the extensive discussion, which included input from Police Chief Andy Kancel, Captain Wes Griffin, crossing guards and a representative from ACMS– as well as pointed questioning from council members– the common focus was for the safety of both the school children and the residents of the town.
Everyone acknowledged that not sharing the possibility of shifting the administration from the police department to that of an outside company earlier with the crossing guards was a major mistake; and, an unintended perceived lack of respect.
It was also learned, however, that the guards' fear of losing their jobs, if ACMS takes over as management for the program, is a false concern. The guards' positions end on June 1; and, each guard is required to apply again for a position at the beginning of each academic school year.
Council members voted unanimously to approve a yearly ACMS contract tailored for Flower Mound, with a 30-day notice of termination.