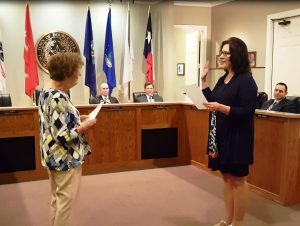 The Double Oak Town Council on Monday night appointed Stacie Stoehner to a one-year term for a seat left vacant after the election. The remaining year left in the term will be on the May 2018 ballot.
The action came after Steve Durbin, who passed away on March 19, came in with the second most number of votes behind Scott Whisenhunt, and 3 votes ahead of incumbent Ara Minassian in the May 6 election for two open council seats.
Whisenhunt was sworn in for a two-year term on town council and Mike Donnelly was sworn in for his fourth term as mayor.