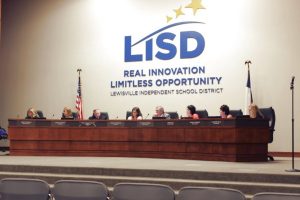 by Steve Southwell
In a 5-2 vote at the May 15 Lewisville ISD board meeting, trustees narrowly passed the plan to add the district to a growing list of the state's District of Innovation participants.
House Bill 1842, passed by the 2015 Texas Legislature, created the system that allows districts to create an innovation plan with community input and then identify certain approved sections of the Texas Education Code that it deems to impede those plans.
Districts whose boards approve the DOI designation become exempt from the identified requirements for a period of five years.  Districts may come back during that period to identify more sections of the code that they need to be exempted from.
Read more from The Lewisville Texan Journal.