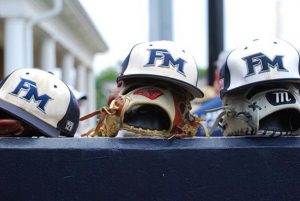 It should come as no surprise to local fans that the Flower Mound and Marcus baseball teams will square off against each other in the regional quarterfinals this coming Thursday.
Both teams are undefeated in the playoffs, and Marcus has not been scored upon in its last three games, so something will have to give in the third round.
Fittingly, the Jags and Marauders split their regular season series, and Flower Mound coach Danny Wallace said that the Battle of Mound will normally bring that kind of result.
"The rivalry is special in all sports," Wallace said. "I think the baseball side of it has gotten a lot of attention lately because both programs have been so highly regarded at the state level. The competition is intense with so many kids that have played together growing up and who will be playing college baseball later."
Flower Mound defeated San Angelo Central in two straight games (8-7, 7-3) in the area round last week, and Wallace said it truly was a team effort.
"We had a great effort from Lance Russell who was 5-6 at the plate, but we had several guys who had multi-hit games over the weekend," Wallace said. "Kyle Landers, Dylan Antonelli, Syler Shepherd and Zach Mesa all had multiple hits. Eric Jones was clutch in relief in both games, and Ryan Johnston and Austin Wallace threw well for us. We have played really well the last few weeks, which is good because we will have to play our best games of the year to advance this week."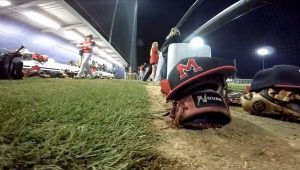 Marcus defeated South Grand Prairie in the area round by scores of 8-0 and 10-0 last week, and Coach Jeff Sherman said his starting pitchers, Blake Mayfield and Michael Leaumont, were on point.
Sherman said he expects "a battle" with the Jaguars in the regional quarterfinals and said the thing he admires most about Flower Mound is the team's tenacity.
"They never quit, and they play smart baseball," Sherman said.
Wallace agrees that the series will be tough, saying that Marcus is an offensive juggernaut and that on the mound for the Marauders "there is always some D1 arm that is as good as any pitcher we face each year," to boot.
"I expect the games to be tight and well played," Wallace said. "It will probably come down to one pitch or swing of the bat to determine the games. Both teams are very good and that means a fortunate hop or bounce of the ball could be big."
Marcus and Flower Mound will square off at 8 p.m. on Thursday at 8 p.m., with game two at 5 p.m. on Friday and game three (if necessary) at noon on Saturday.
All three games will be played at Dallas Baptist University.