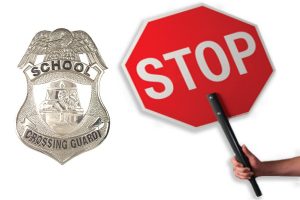 Transferring Flower Mound's beloved school crossing guards from the town's Police Department to a special management company—All City Management Services (ACMS)—proved to be the most emotional item on the Flower Mound Town Council consent agenda Monday night.
"First and foremost, we value our crossing guards," said Police Chief Andy Kancel at the beginning of the discussion.
Unfortunately, that message and an informational meeting with the crossing guards by the police department didn't happen in a timely manner by April 13.
With the early release on Good Friday and no school on Easter Monday, prior to the Town Council meeting, the guards were uninformed about the possibility of a change. The meeting agenda listing the issue was posted the required 72-hours prior to the meeting, which led to a very nervous group of crossing guards over the weekend.
Captain Wes Griffin, who is responsible for the Special Services Division, under which the guards serve, apologized for the timing and lack of communication. A meeting with the guards was scheduled on Tuesday to answer questions and hear suggestions from the guards for the possible transition.
There are currently 51 guards for 78 positions, which is down from the already 10 guards short at the beginning of the 2016-17 academic year. Over the past two-years, 19 guards have been lost.
"They truly have a servant's heart," said Griffin.
He also pointed out that the members of the department volunteers are not good substitutes; were they interested in that form of service, they'd already be crossing guards.
"If police officers are serving as a guard, they must stay in that position," he said. "If there were an accident in that crossing, or a need for service nearby, they can't take care of it."
The crossing guard cost typically runs 12-perent over budget. He explained it with a picture of an iceberg illustrating that the budget for the pay of crossing guards is only the top 10-percent of the cost. Using police officers as "back-filling" for crossing guards is not only a financial issue, but it impacts public safety as well.
In an open letter to the community, Mayor Pro Tem Kevin Bryant (Council Place 3) explained: "When an officer is working the crossing, they must do just that. They cannot enforce traffic laws, respond to incidents, or anything else that would take them from their post. This is the issue the town is trying to resolve."
ACMS is a national-wide company that has been in business for more than 30-years and service the Texas communities of: Carrollton; Highland Park ISD; New Braunfels; Midland; Odessa; and, Corpus Christi. In addition, Lewisville is also investigating using ACMS.
"It [using ACMS to staff the crossing guards] may save the town about $29,000, but– more importantly– it will free-up the officers to respond to other service needs," said Griffin.
Additionally, the number of guards in the ACMS service-pool will be able to fill vacant positions, as well as send a substitute in the event a regular crossing guard is unable to fill the position for any reason.
Council member Don McDaniel said that a contract with ACMS must include a guarantee that as long as a crossing guard wants to serve, the position will be there for that guard on the first day of school next year.
"It will also be stipulated that Flower Mound residents will be given precedence as a local guard," he added.
The council also requested that an ACMS contract be customized to include: crossing guards will have the same pay they do now; the company will give priority to Flower Mound residents who want to work as guards going forward; FMPD will still have complete oversight over the crossing guards; and, if there are vacancies that the company does not fill—requiring police officers to service the position– they will reimburse the town.
"It's not an effective use of resources to use police officers in this use," said Deputy Mayor Pro Tem Bryan Webb. "The only difference to the crossing guards is that their check will come from someone else."
Griffin said that the only problem [noted by communities using ACMS] was that, if there was an issue with crossing guards, people were still calling the police department, instead of ACMS; unless it's a regular police [traffic] issue.
The council tabled the item until any adjustments and legal review are completed before it reviews the issue again.
The next day in a meeting with 47 crossing guards in attendance, Griffin said people were understandably emotional about not being allowed to participate in the process earlier.
"They had some suggestions and also some questions about the possible transition—including a request to meet with ACMS representatives," said Griffin. "We're trying to get that set as soon as possible, but right now their representative is in Detroit and then he's scheduled to be in California. But, we're working on getting a meeting date set soon."
He added that in taking a fresh look at the FMPD requirements for crossing guards, some of the existing standards should possibly be amended.
"For instance, we require that a crossing guard have a Texas driver's license," Griffin explained. "Well, seniors may not have a current license, so they couldn't be a guard even if the position were next to their home. Also, there's a requirement that a guard must have previous experience working with children, but guards help people of all ages."
A knowledge of life-saving procedures—such as CPR or other basic techniques offered by organizations like the Red Cross— aren't required currently by the FMPD, but could be a possible addition.
Future meetings are planned, but no specific dates are scheduled yet.