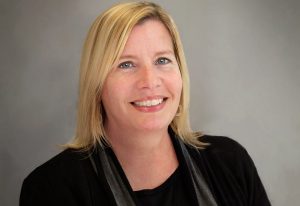 by Janet Laminack, County Extension Agent-Horticulture
In the summer months, our landscapes drink up a lot of our good, clean water. People bristle when this gets mentioned. "Please don't make me turn my beautiful lawn into gravel," they are thinking. Many people even tell me, "I don't like cactus and I'm not going to do zeroscape."
I'm a horticulturist, so that means I like plants, not gravel. And the term is actually xeriscape, not zeroscape but the point is well taken — we misunderstand what drought tolerant and water conserving landscapes are and we don't want them besides.
These days, we are getting away from the confusing and scary term xeriscape and moving into terms such as "smartscape" "water smart" and Earth-Kind. These are all approaches to gardening and landscaping, practices that focus on healthy and beautiful lawns and flower beds. Earth-Kind not only seeks to conserve water, but to reduce the amount of fertilizers and pesticides used in landscapes.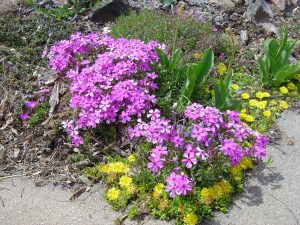 Did you know that the recommendation for a water conserving landscape is actually 1/3 lawn area, 1/3 hardscape and 1/3 perennials and shrub beds? Hardscape refers to non-living areas such as sidewalks, decks, patios and yes, fields of gravel if that's your thing. Other best management practices include adding a 3-6 inch layer of mulch to all your shrubs, trees and flowering plants. Mulch helps insulate the soil, reduces erosion, reduces competition from weeds and slows water loss from soils. If you use an organic material such as wood chips, they break down over time, improving your soil. It's like a slow release fertilizer!
Plant selection is also important. Picking plants that enjoy our hot summers and can survive on minimal supplemental irrigation is important. Indulging in a few high maintenance favorites is allowed, but don't water your entire landscape just to give those few plants enough water. Group or zone plants according to water requirement and set your irrigation timer accordingly. You might be surprised at the quantity of beautiful, lush and "non-cactus looking" plants that are drought-tolerant.
There are so many opportunities to get more acquainted with water conserving landscapes. On Saturday, April 22, I will be speaking about water-wise landscapes at the Denton Redbud Festival at 10 am. This free event will also feature vendors, activities and local music. www.kdb.org.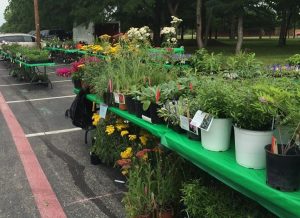 Come shop for plants with the Master Gardeners on April 29. This annual fundraiser is scheduled from 9 am to 2 pm on the grounds of the Trinity United Methodist Church in Denton. Not only is there a great selection of hard-to-find herbs, plants for pollinators and tough perennials, but you can also find pass-along plants from Master Gardeners' own gardens. And, Master Gardeners are there in abundance to help you make plant selections and answer your landscape questions.
And, if you need even more convincing, come see plants in action at the Denton County Master Gardener Spring Tour on May 13.  You will see five beautiful home gardens and get great ideas on what you can incorporate in your own landscape. This event is the Master Gardener annual fundraiser; tickets are $10 before the tour or admission to a single garden is $5 at the gate. Children 12 and under are free.  For more information call 940.349.2892, email [email protected] or buy tickets online at www.dcmga.com. Please call ahead if you have mobility concerns because not all gardens may be accessible.