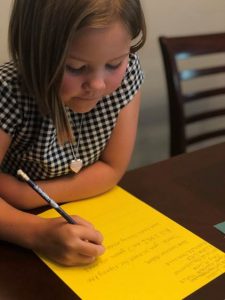 A local girl is selling lemonade to raise money for Kyle's Place, a transitional living program for homeless youth working toward independence.
Mia Camm, a 7-year-old honors student entering the third grade at Timber Creek Elementary in Flower Mound, wanted her own lemonade stand two years ago. But after she began to make money, instead of keeping it, Mia decided to donate the proceeds to a local charity, ultimately choosing Journey to Dream's Kyle's Place.
"Mia wanted all the teens to feel that same love that she does as a child," said Nesa Grider, CEO of Journey to Dream.
Mia will be selling her hand-squeezed lemonade at the Journey to Dream back-to-school event from 10 a.m. to 3 p.m. on Aug. 10 at the Market Street store in Flower Mound, 3800 Long Prairie Road. She will even debut a new flavor, watermelon lemonade. At the  event, Journey to Dream will collect donations of food, school supplies and gift cards for the teens it supports.
Mia also recently sent a letter to Gov. Greg Abbott, thanking him for signing the lemonade bill, officially making it legal for kids to operate lemonade stands on private property, and inviting him to stop by the event for a glass of her "Brighter Lemonade."
"My slogan is Brighter Lemonade, Brighter Lives," Mia said. "I hope by raising money for Kyle's place, I will accomplish making lives a little brighter. I know that my mom and dad love me, and I want these kids to know what that love feels like too. This is the third year I will be selling my Lemonade to help Kyle's place buy school supplies."
Mia wants to someday sell her lemonade in stores and create a brand that will consistently support Journey to Dream and similar charities.