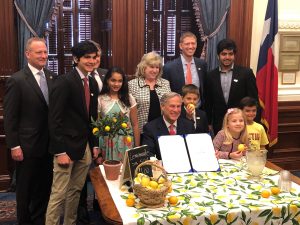 HB 234, sponsored by Texas State Senator Nelson (R-Flower Mound), legalizing lemonade stands in Texas, was signed into law by Governor Greg Abbott last week.
"It's unfortunate we need to legislate common sense," Nelson said. "Children should be allowed to sell lemonade without government interference. We should be encouraging young entrepreneurs — not standing in their way."
In attendance for the signing of HB 234 was Nelson's granddaughter, Katherine Keller. Katherine, the daughter of Elizabeth and Gary Keller, operated a lemonade stand this summer to raise money for Christian Community Action, according to a news release from Nelson's office. Katherine presented the proceeds from the lemonade stand to CCA to purchase back to school supplies for the upcoming school year.
"I am so proud of my granddaughter for her hard work and her generosity," Nelson said. "Today we took a big step to ensure all children can learn an important life lesson just as Katherine did. If you're in the area, keep your eyes peeled as this stand will not be her last."
Specifically, HB 234 frees lemonade stands from government interference and allows children to operate stands on private property without a license. The new law comes in response to a 2015 incident where police shut down a lemonade stand run by two siblings trying to raise money for a Father's Day present.
"I had fun making and selling lemonade to my neighbors. I wanted kids to have their school supplies on the first day of school, just like I do. I am going to sell lemonade again soon," Katherine Keller said.
The new law will take effect on Sept. 1.
Nelson represents District 12, including portions of Tarrant and Denton Counties. She is Chairman of the Senate Finance Committee and the highest-ranking Republican in the Texas Senate.