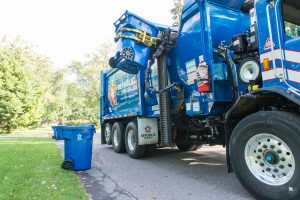 Republic Services employees are checking Flower Mound residents' recycling containers for contaminants for the next three weeks, according to the town of Flower Mound.
With some major recent changes to what can and can't be recycled, Flower Mound's waste services provider will place tags on carts that contain items that can't be recycled, according to the town's news release.
"Sometimes all it takes is one item to contaminate an entire truck load of recyclables," the news release said. "We would hate to see everyone's hard work become contaminated and need to be taken to the landfill."
The general rule for recycling is empty, clean and dry. Republic urges residents to only recycle the following: flattened cardboard, paper, metal cans, plastic bottles and jugs, cartons and glass. The following things can't be recycled: plastic bags, styrofoam, soiled paper, greasy pizza boxes, electronics, batteries, construction waste, clothing, medical waste and more. The only recyclable bags are paper bags.
For more information, click here or call 972-539-7378.