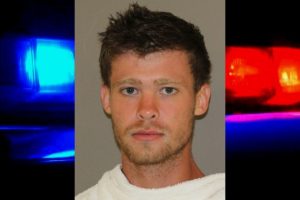 A young man accused of killing his father was found and arrested in Roanoke overnight.
Just after midnight, Roanoke police were dispatched to a reported suspicious person outside the PetSmart at 1208 Hwy 377 North, according to the Roanoke Police Department. Officers arrived and began talking to the subject, who was sleeping on his backpack up against the building.
The man — identified as 21-year-old Jacob Allan Barber of Moore, Oklahoma — told police that he was traveling south from Oklahoma. Police searched his name in the FBI's National Crime Information Center and saw an active warrant for first degree murder out of Cleveland County Sheriff's Office, located outside Oklahoma City. Barber was taken into custody without incident for the warrant and taken to Denton County Jail, where he will wait to be extradited to Oklahoma.
Police have been trying to locate Barber since his father, Glenn Barber, was found dead in a house in Moore, according to a News 9 report. Jacob Barber is accused of stabbing his father, 48, to death.