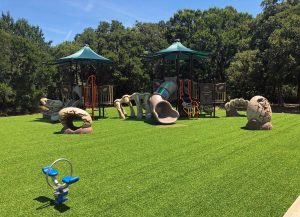 The Thrush Park playground, which was just opened with new upgrades, has been temporarily closed again.
The town announced last week that the park playground's upgrades were completed, now with a dinosaur theme and new shaded play structures. But Thursday, the playground was temporarily closed "due to ongoing site work," according to a news release from the town of Flower Mound
The remaining site work is expected to be completed by June 28, weather pending, according to the town. Thrush Park is located at 950 Sun Ridge Drive.