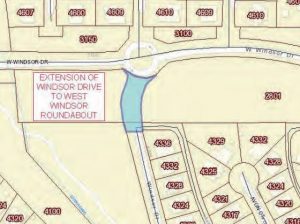 There are several things driving the 200-foot Windsor Drive extension to the Windsor Roundabout (sorry about the bad pun), but it's not the neighbors or the Flower Mound Transportation Commission which recommended denial by a vote of 4 to 2 at its May 16, 2019 meeting.
The Flower Mound Town Council, however, on Monday approved the continuation of the $300,000 project by a vote of 4 to 1– Council member Jim Pierson was the sole nay vote.
The most significant reason given to approve the extension was faster response times for first-responders.
"We talk about ingress and egress for safety personnel and how much the town doesn't like one way in and one way out. I've always looked at the health, safety and welfare of our citizens," said Mayor Steve Dixon.
To respond to calls in the Westchester neighborhood, emergency personnel at Fire Station 4 in Bridlewood must drive east on West Windsor, turn right on FM 2499 and turn right on Windsor to continue west before accessing the Westchester neighborhood. The connection will eliminate the need to drive to FM 2499.
"I would always advocate for additional routes in," said Flower Mound Fire Chief Eric Greaser. "What we have today is a delay. There are turns that are not available that causes a delay in our response times."
Pierson challenged claims the extension would make the neighborhood safer.
"We're within the standards that we set already, so using that as a justification for putting something into one of our oldest neighborhoods is beyond me," confessed Pierson.
"I would argue that we would be faster," Greaser said. "It's all about the seconds."
"There's standards and then there's the ability to save someone's life," said Council member Jim Engel. "If we can improve our standards and save someone's life."
"I think it's wise to establish a way to connect professional first responders to those people as soon as possible," Dixon said.
"They [the residents] simply don't want to change with an increase in traffic for any reason," Pierson said, noting there's a history in the neighborhood of residents not wanting the connection.
But, Blake Hummel, senior project engineer, said the connection would actually decrease traffic on Windsor east of Churchill, since residents in Westchester would be more inclined to take West Windsor.
He also said First Student– the bus company for Lewisville ISD– is in support of the connection, saying it would help bus traffic.
Dixon said if he lived in the neighborhood and had middle school children he would want the connection to provide a way for them to get to Downing Middle School without having to get on FM 2499 or FM 1171.
"I believe we're making it safer for our residents to take their kids to school," said Dixon. "If the bus is going to use this route, it seems like a no-brainer."
"I don't know why this connection wasn't done back when we did the Windsor extension," said Deputy Mayor Pro Tem Claudio Forest. "This should've been done years ago."
A Professional Services Agreement in the amount of $84,414 with Pacheco Koch for the design of the Windsor Roundabout Connection and the Morriss/Valley Ridge project were approved at the December 17, 2018 Town Council meeting.
If the contract is terminated, any outstanding amounts owed for services rendered related to the West Windsor project would need to be paid.
"There's something more important than the numbers that we're looking at– response times and traffic counts," insisted Pierson. "It's the heart and soul of the people in that neighborhood who want things to be left alone."
Hotel Deadline Extended
After several false starts, it appears that Flower Mound will be the home of Hotel Indigo.
The council approved a second amendment to the Chapter 380 Agreement between the Flower Mound and Lakeside Crossing Land Partners, LP (previously Newstream Hotels & Resorts, LLC) to extend the performance deadlines associated with the building permit application, building permit approval, completion of a hotel and commercial buildings.
The request is due to delays resulting from negotiations with the prior hotel group (Hotel RL) falling through, the need to re-engage the hotel market and conduct an additional hotel market study.
The Lakeside Crossing project will include: a five-story, full-service, approximately 60,000-square-feet hotel with 125- to 140-rooms and suites; a full-service restaurant providing 24-hour room service; and, approximately 4,000-square-feet of meeting space. The hotel was originally to be branded Unscripted (later Hotel RL and now Hotel Indigo).
Hotel Indigo has three locations in North Texas, in Frisco, Dallas and Waco.
Andrea Roy, director of Economic Development, assured council that the developer has a signed contract with Hotel Indigo and has contracted a firm for the architectural design. The hotel is expected to open in 2021.
"Real and business personal property rebates will be reduced from seven years to five years," added Roy.
The council unanimously approved the request.