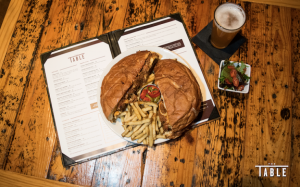 The Table restaurant in Flower Mound has closed, at least temporarily.
A sign posted in the front window says that as of Monday, the restaurant is closed indefinitely. Calls to the eatery's phone number went unanswered, and the owner couldn't be immediately reached.
However, management posted on the business' Facebook page that it would only be closed for 4-6 weeks to improve its menus and improve customer service and operation.
"To our loyal customers, we are saddened that this step was necessary and to those who had yet to discover us, we regret we didn't get the chance to know you," the sign says.
The Table — a new American eatery with a European, rustic flair — opened at 3701 Justin Road, Suite 150, in late 2015. Ownership was taken over in May last year by Matt and Jennifer Locke, who own a pub in downtown McKinney and a bar in downtown Dallas.