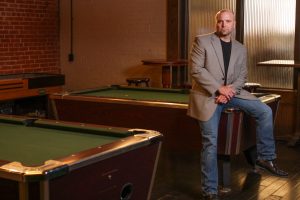 A North Texas husband and wife who own two bars in McKinney and Dallas recently purchased The Table restaurant in Flower Mound.
The Table — a new American eatery with a European, rustic flair — is still relatively new to the Flower Mound restaurant landscape after opening in late 2015. Ownership was recently taken over by Matt and Jennifer Locke, who have been married for 20 years and have four children.
The Lockes met at an Irish pub in the Pocono Mountains, a chance encounter that proved fortuitous because in 2015, they bought their first bar, The Pub McKinney, an English-American pub in downtown McKinney.
As the Lockes grew their knowledge of food, beer, craft cocktails and spirits, they knew they wanted to run more establishments. They bought Eastwood's Bar in downtown Dallas earlier this year before they recently took over the ownership of The Table in Flower Mound.
"In The Table, we see a wonderful opportunity to share our love of customer service and fine food with the local community," said Matt Locke. "The Table serves modern American cuisine with global influences in a refined yet rustic industrial setting."
Matt Locke said he and Jennifer plan to increase The Table's focus on finely-crafted dishes, complimented by a fine wine and cocktail selection "all while delivering the level of service Flower Mound should expect in an upscale casual establishment."