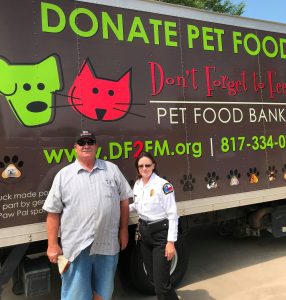 The Flower Mound Animal Services department donated more than half-a-ton of pet food and treats to local shelters and food pantries in May.
The department wrote on its Facebook page that it donated 1,030 pounds of dog and cat food and treats that it didn't need for the animals in its Animal Adoption Center. A large portion of the donations went to Don't Forget to Feed Me, a Fort Worth-based nonprofit that supplies pet food to local food pantries.
The Flower Mound Animal Services accepts donations of all kinds, and when it has more than enough food, "we do our best to make sure nothing goes to waste and all donations are accepted and dispersed throughout our Adoption Center and neighboring communities to help all animals in need," the department said on Facebook.