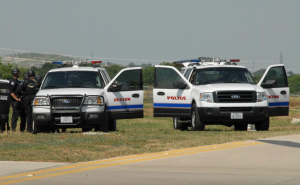 A Denton woman has been identified as the victim of a fiery fatal crash on I-35W in far south Denton last week.
Around 9:40 a.m. Thursday, a white Ford Explorer SUV was traveling south on I-35 near the Oak Street exit in Denton when it rear-ended a Subaru sedan but didn't stop, according to a Denton Police Department news release. The sedan driver was not injured.
The Explorer continued south on I-35W and minutes later, it left the right side of the roadway into the ditch and kept going for about 1,000 feet before striking the bridge pillar at Exit 82, the FM 2449 overpass. The vehicle caught on fire with the female driver still inside.
Other drivers stopped and tried to get her out of the vehicle, but it was damaged from the crash and they weren't able to open the doors. First responders soon arrived and firefighters extinguished the fire, and the driver was found to be dead.
The driver has been identified as 69-year-old Rose Harvey of Denton, according to the Tarrant County Medical Examiner's Office.