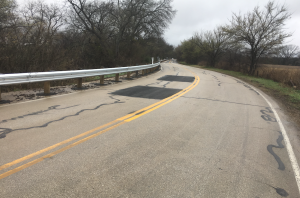 Hickory Creek Road has re-opened in southern Denton County.
In early January, two teen brothers — Diego and Daniel Rivera — died in a car crash when their vehicle went off the road into Hickory Creek. After the accident, Denton County officials announced that improvements would be made to the road, including asphalt repairs and the installation of a long guardrail along the southern side of the road within the county limits.
The road was shut down in early February for the roadwork, and it was re-opened this week. The half-mile section of the road that runs along Hickory Creek  — near FM 1830 — now has a guardrail between it and the creek.