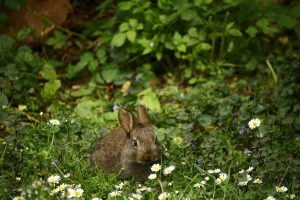 The town of Flower Mound has several tips for residents who find baby rabbits in their backyards.
This time of year is typically when many residents find the cute little critters near their homes, and the town shared several pieces of advice for what to do if you find them in your yard:
If a nest is intact and there seems to be no immediate danger to the rabbits, they are OK to be left alone
The mother rabbit usually stays away from the nest during the day, only returning to feed, stimulate and clean her babies. If the mother does not return after 24 hours or the nest is destroyed, then human intervention is needed.
Do not attempt to feed the rabbits. Wild rabbits require a specialized formula.
Do not keep these animals as a pet. Wild rabbits do not trust humans and do not accept other domestic animals as companions.
If babies look to be in imminent danger, injured, or there is no sign of the mother after 24 hours, contact Flower Mound Animal Services at 972-874-6390 or WildRescue Inc. Rabbit Rescue at 972-891-9286. From there, one of two things can happen: the non-profit will come and retrieve the rabbits or an Animal Services officer will safely transport the rabbits to Wild Rescue Inc.
For more information about baby rabbits and other wildlife, visit WildRescue Inc.