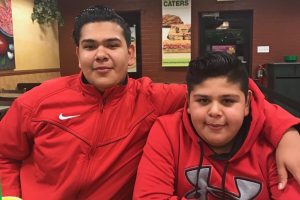 Two teen brothers died Wednesday morning after they were pulled from a vehicle in Hickory Creek in southern Denton County, according to the Texas Department of Public Safety.
The victims were identified as 17-year-old Diego Rivera, a Guyer High School senior, and his 14-year-old bother, Daniel Rivera, an eighth-grader at Calhoun Middle School.
Someone reported seeing the vehicle in the creek along Hickory Creek Road at 7:49 a.m., according to DPS Lt. Lonny Haschel. Authorities responded and found a white car upside down in the creek, east of FM 1830. The crash apparently occurred sometime Tuesday evening.
Investigators believe the vehicle was traveling east on Hickory Creek Road when, for an undetermined reason, it left the road, went over an embankment and came to rest upside down in Hickory Creek. The teens died at the scene.
The crash was still under investigation Wednesday.
"Diego had a lasting impact on many students and staff during his time at Guyer, especially as a member of our soccer team. The loss will be difficult for all of us to cope with, but know that our teachers and staff will work with our students to get through this tough, emotional time together," stated Guyer High School principal Shaun Perry in an email to parents.
A GoFundMe page was set up for the Rivera family.  Flower Mound attorney Jay Stucki posted an online petition to encourage Denton officials to make that stretch of Hickory Creek Road safer.