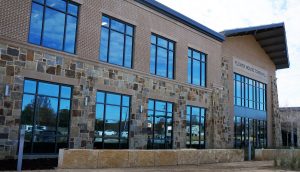 Even before Flower Mound Mayor Steve Dixon gaveled the Town Council to begin Monday night, he'd announced he wanted to speed through the agenda as fast as possible. He got his wish; the meeting was adjourned in under 45-minutes.
Among the 18 agenda items passed unanimously– and no discussion by council members– were: a Public Works Department Peterbilt utility-line maintenance vehicle for approximately $380,000, plus three Chevrolet Colorado Half-Ton Double Cab pickups for meter services for more than $70,000; four Ford F150 Extended Cab pickups for Development Services worth more than $113,000; three Chevrolet Tahoe 4WD Special Service vehicles for the Fire Department in the amount of more than $154,000, plus a Ford F150 Crew Cab 4×4 Special Service Pickup truck for more than $50,000; and, eight new Chevrolet Tahoe RWD Police Pursuit Vehicles (PPV) with town-specification equipment for almost $469,000.
These necessary vehicle expenditures are just part of the cost of "doing business" for municipalities. Equipment has shelf-lives and eventually wears out.
The final agenda item on the Consent Agenda was the renaming of the 31.15-acre Leonard Johns Park— so named in 1990 for him serving as Chairman of the Parks Board and as a Town Council member– to include Leonard's wife, Helen, in the name at the request of the Parks Board by Angie Cox on Oct. 1, 2018.
In a letter to the council, Cox wrote: "Helen helped start the Easter Sunrise Service on the Mound in conjunction with the Mound Association. She assisted with the book "Sweet Flower Mound Land" by conducting many interviews and recordings for the historical book. She participated in the presentation for the new Flower Mound Library in February 2000. She also volunteered for many clean ups with Keep Flower Mound Beautiful.
"She is well known for her involvement and starting the Women of Flower Mound back in 1975. The Women of Flower Mound is a strong organization that does many activities with the Town and helps provide scholarships for graduating seniors."
The council also approved a $4.5 million construction agreement with Schmoldt Construction for Fire Station 7, located at the northwest intersection of Skillern Road and Wichita Trail, just north of the Coram Deo Academy campus.
During previous presentations, Fire Chief Eric Greaser stated that the station– which will include a paramedic unit, a special operations unit and a safe room designed to withstand wind speeds up to 250-mph– is needed to lower response times in western and southern sections of Flower Mound, such as Point Noble and the newer residential subdivisions.
Construction on the 9,300-square-feet station is scheduled to begin by the end of January, with a completion deadline of December 2019.
The main council member discussion involved a possible Charter Review for 2019.
As introduced by Dixon, using the new Town Hall technology available to vote digitally– rather than the traditional verbal rollcall– might require a Town Charter amendment.
Town Attorney Bryn Meredith said the requirement only dictates that all ordinances and resolutions be voted with "ayes" or "nays" from council members, with no requirement on method for casting the votes.
Dixon directed town staff investigate whether a Charter Review in 2019 is warranted. The council will decide at its next meeting on Feb. 4 whether to move forward.