On October 16, 2005 Vice Admiral Thad Allen entered the door of Mother's Restaurant in New Orleans' central business district and walked through the cafeteria-style line without a single customer in front of him. Any other day this event would have been set apart in history because there was absolutely no waiting time in the home cooking restaurant that boasts of having the world's best baked ham. Any other day the casual restaurant would be filled to the brim, playing host to a diverse mix of patrons including Hollywood stars, kings and presidents, and U.S. maritime deck crews. But this was not any other day.
On this particular day, Allen was the first customer to take a seat at Mother's since August of that same year when category 5 Hurricane Katrina put the Crescent City out of business. The significance of this moment told the world that the heart of New Orleans was still beating as the head of the disaster relief efforts calmly sat down to enjoy one of Mother's famously huge biscuits.
Though the restaurant was nestled inside the central business district, one of the few areas of New Orleans that had escaped flooding, workers had been displaced and the business was out of commission. Allen's visit was both a sigh of relief to the city and the generational servers and chefs who had cultivated deep roots at Mother's, one of whom was Shirley Levy, granddaughter of the original Mother's cook Oda Mae Peters. This team of optimists now living on faith reclaimed their ravaged city from nature's ash heap. Left with a choice to perish or to overcome adversity, they took up residence in what became known as "Mother's Village" where a makeshift community had been formed with FEMA trailers in the back parking lot. This effort by the restaurant owner served not only as an enticement, but an opportunity for workers to come back home.
And come home they did.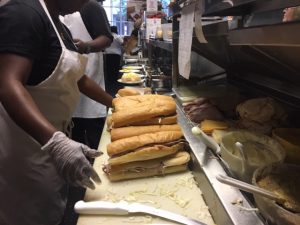 Today the restaurant is thriving, continuing to serve New Orleans flavored foods that mostly would have shown up on Grandma's table, and might have been washed down without apprehension by early morning Bloody Mary's or Mimosas. Executive Chef Roland Swazy works diligently to prepare the freshest meals possible, remembering the days that he was working as the dishwasher before owner Chef Jerry Amato took him under his wing to learn the culinary arts Mother's-style.
Vice Admiral Allen's historic visit to Mother's would not have been the first time a maritime professional found comfort in the famous favorites. So many military workers were nourished, body and soul, during and after WWII that Mother's became affectionately known as "TUN tavern", referring to the official birthplace of the U.S. Marines during the Revolutionary War. This was a welcomed nickname to the original owners Simon and Mary Landry, who not only had five sons who served in the Marine Corps, but a daughter Francis, the first woman in Louisiana to be accepted in the Corps.
While other family-owned business such as D.H. Holmes Department Stores and K & B Drug Stores left their imprint on the central business district, it is Mother's Restaurant that has had lasting power. Locals and tourists flock to eat specialty sandwiches and omelets that outsiders likely need a dictionary to order, hence the website vocabulary lesson for words like "debris", the roast beef that falls into the au jus gravy. There, the Ferdi Special Po' Boy is defined by debris paired with Mother's world famous baked ham. The restaurant valued the word "Creole" enough to coin the verb "Creolized" as they referred to items of the menu that have blended traditional French recipes with those of Africa, Spain, Italy, Germany and the Caribbean. Nowhere else on earth will you find anything like this unpretentious, old world melting pot.
For far away admirers of Mother's rise from the ashes, it is a little known secret that the chef's recipes are now published on their website, www.mothersrestaurant.net, along with fun facts about this unique historical pin on the map of longevity. This was yet another effort to heal the soul of America during a tumultuous time, and the spirit of the Vice Admiral's visit lingers on to this very day. Like a child running to his mother with a skinned knee, the restoration of this season of brokenness began without a doubt from the Mother's touch.
(Writer's Recommendation: For a little taste of Mother's sent to your door, try Mother's Pepper Vinegar or Mother's Preserve.)