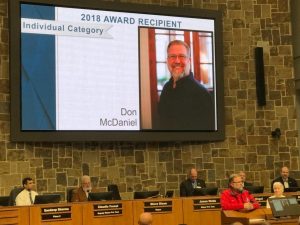 The Town of Flower Mound revealed the 2018 winners for its Outstanding Citizen and Group of the Year Awards, in addition to the new category– Lifetime Achievement.
The town's 2017 Outstanding Citizen of the Year, Marilyn Lawson, announced Don McDaniel was selected as the 2018 Outstanding Citizen of the Year for his longtime volunteer hours, both as an individual and as a member of many civic groups, including The Summit Club.
"I met him years ago at a Hilltop [Park] clean-up," said Lawson, longtime president of Keep Flower Mound Beautiful. "He's a member of The Summit Club, the Mound Foundation and lead a recent blood drive for someone who needed it."
McDaniel credited others who have supported him and added that, although he didn't submit any nominations for 2018, he will next year. He said he knows so many residents who meet the criteria of: "making a positive impact on and enhancing the lives in the community."
"I'm really touched," he said.  "David, who helped all the people in east Texas to build new homes; Al Picardi had the blood drive idea– all I did was pick up the phone– and my wife makes all the signs [shown in a photo collage presentation on McDaniel]."
The Outstanding Citizen of Year Award started in 2014, with the first recipient in 2015 being Doug Graves; in 2016, Kathy O'Keefe; and, in 2017, Marilyn Lawson.
The 2018 selection committee included representatives from civic groups, including: the Flower Mound Chamber of Commerce; Women of Flower Mound; the Lion Club, noon Rotary and Summit Club; and, Lawson's KFMB. It also requested Town Council to consider the Lifetime Achievement Award category as of Nov. 19, 2018.
There were a total of 26 applications for 2018– three groups and 23 individuals– which included submittals from 2017 who weren't honored last year.
The 2018 Group of the Year is The Summit Club.
The Summit Club of Flower Mound is the oldest fraternal organization in town. It's a service organization comprised of community leaders and hard working men dedicated to serving others. It supports many charities and organizations serving the Flower Mound community.
"Recently, they even started to cook something other than hot dogs [at community events]," said Lawson, laughing. "I asked them to start cooking veggie burgers … and they did."
Accepting the award was its longtime president, Deputy Mayor Pro Tem Claudio Forest.
"The Summit Club's been around since 1974," he said. "They give up their time, their heart and soul. What we do, we do for this town and the charities we support. The first Saturday in March, is our big annual fundraiser, Western Saloon Night."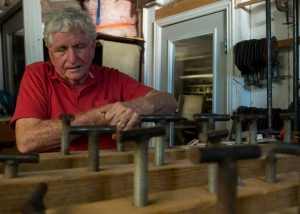 The first person named for the Lifetime Achievement Award was Alton Bowman.
"He's been on the 'Tree Board,' which later became the ECC [Environmental Conservation Committee]," said Lawson in her introduction.
"It's been my pleasure," said Bowman. "My daughter, wife and son-in-law are here tonight. I've been here 34 years and the trees have been my motivation and my reason to volunteer. It's kind of self-serving, because I want to keep them and the town like I found it."