Now that another Thanksgiving, Black Friday and Cyber Monday are behind us, new and longtime "brick-and-mortar" businesses in The Shops of Highland Village are ready for the home stretch of holiday shopping.
There're plenty of excellent gift ideas available right here in southern Denton County, no matter who remains on your "nice" list.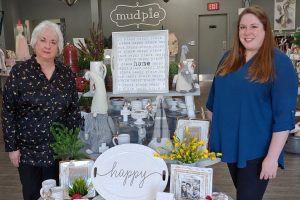 Mud Pie 
One of the newest businesses in The Shops opened in October, four years after Tiffany Craft Jenkins and her mother, Sherry Craft, launched the nation's first Mud Pie store in Frisco in 2014.
Jenkins calls it a gift store for everybody that focuses on three main lines: women's clothing and accessories (jewelry, bags and totes); kids' clothing and accessories; and, a home furnishing accessory line with products including dishes with fun sayings, wreaths, flowers, vases, serving pieces, wine glasses and cheese boards.
The most popular holiday items are anything with copper lettering of peoples' initials on them, such as cutting boards and matching coasters, plus throws and blankets.
"You can kind of make them anyway you want," said Jenkins, a former forensic scientist.
Craft is a former office manager and Certified Public Accountant who handles Mud Pie's financials, while Jenkins' husband, Brian, helps with social media and computers.
"We have tons of other gifts, like wine glasses, that have fun sayings on them for Christmas," Jenkins said. "Our other most popular items are Tex-Mex sets with statements like my favorite, 'Holy Guacamole,' on one piece and, 'It's 5-O'Guac Somewhere,' on another. It's just fun things like that."
Brightside Boutique
Ann Wolf has had her Brightside Boutique store for 11-years and is among approximately 100 stores nationwide with the Brighton Heart designation directly connected to the Brighton family.
She focuses on women's clothing, accessories and jewelry, plus an extensive cosmetics section with full skin care lines and makeup artistry for proms, weddings and other special occasions. She also stocks a selection of men's wallets and belts.
Among the most popular items are Brighton-brand charm bracelets, lockets and handbags, many of which can be personalized.
Also popular are UGG robes, jackets and shoes and Ivy Jane specialty women's clothing. On the cosmetic side, Merle Norman is a top-selling brand with 13 product lines to address different needs.
"Skincare and anti-aging is the key," Wolf said. "Anything that reverses and prevents the aging process is always popular."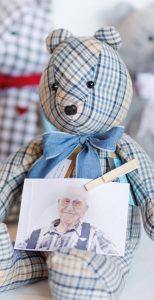 Décor to Your Door
Christine Beck, whose Décor to Your Door store has been open in Highland Village for five years, has three primary gift suggestions.
One is a gift certificate for an interior designer personal consultation for a fresh change for your home.
Another is the MOS B. Bear, which stands for "My Old Shirt" and is a memory bear for anyone made from the shirt of a loved one.
Finally, there's the Scripture Rock, "your favorite bible scripture in calligraphy on Carrera marble," Beck said.
Beck also offers these holiday decorating tips.
"With a tree that is less full and requires more ornaments, run an organza-like material scarf through the middle of the tree from bottom to top and spread the material to give a full look," she said. "Use a variety of different sized ornaments, including a few that are considerably larger to give focal areas to the tree.
"Change out solid ornaments every year or so to offer a new color of the season. A well-placed garland, on a table or fireplace, is a nice addition to a Christmas tree."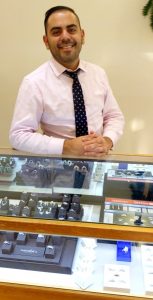 Nasr Bros Jewelers
The Highland Village location of Nasr Bros, opened in 2007, is one of five owned by Eli Nasr, his brothers, Louis and Peter, as well as their father, Paul. They specialize in a wide variety of jewelry for any budget.
"We've always done well with diamond products like diamond earrings, diamond rings, diamond wedding bands and tennis bracelets," said Eli. "Next, we do very well with our silver lines, like John Hardy– a high-end silver and 18-carat gold line. They are hand-made in Bali with lots of attention to their work. If you are a John Hardy customer, you always want to add three-to-five pieces to your collection."
Also, popular in silver is Pandora, which Nasr says continues a decade-long trend.
"Its price-point is in the middle, but it is quality jewelry," Nasr said. "We have stuff from $30 up to $5,000."
Nasr said this time of year also brings in much custom-design and repair work. And, of course, watches remain great gifts, especially Hamilton, a new line [for Nasr] handmade in Geneva, Switzerland, that has sold well in a short time.