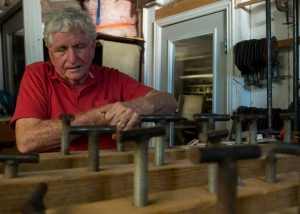 The Cross Timbers Artist Guild member list describes Alton Bowman of Flower Mound as a "Furniture Artist."  If ever there was an understatement, that title is it.
He specializes in production of furnishings with original marquetry, plus conservation and restoration of museum quality antique furniture. The French called such woodworking artists ébénistes or cabinet-makers. Arguably, marquetry ébénistes are cabinet-makers on fine art steroids.
An ébéniste designs a motif, let's say a bouquet of striped tulips with ruffled edges, then cuts thin sheets of contrasting wood veneers– or precious metals, or organic materials such as shell or mother-of-pearl into intricate pattern pieces of the design– which he/she affixes into the surface(s) of a piece of furniture.
The luxury of marquetry furnishings became popular during the 16th century economic boom in France. An ébéniste named André-Charles Boulle perfected the art, then lent his family name to it.  Marquetry furniture is often called boulle work.
"At its popular height, the veneer of choice was blood wood from French Guiana in South America," Bowman said. "Louis XIV loved the stuff."
The French call it satiné (translation: silky smooth). Blood wood is an exotic jungle tree with a natural reddish tint and tiny jet black tree rings. There was a run on tropical hardwoods that left them in short supply with a high price tag that endures today.
Among other gorgeous items, visitors to Bowman's Orchard Drive showroom and studio may feast their eyes on an original small, prize-winning, tropical hardwood roll-top writing desk generously embellished with mother-of-pearl marquetry. The piece's "trick" drawer secretly houses the rolling top. "I like surprises," he said.
The drawer handle on one rosewood and ebony writing desk is a small piece of prehistoric mammoth tusk. Like blood wood, mammoth tusks are also in short supply these days.
Believe it or not, Bowman did not spend his youth tinkering in Dad's woodshop.
"Dad was career Air Force, so we moved all over the place," said Bowman. "I always liked drawing."
His first contact with painting came at Cook County College where a guest teacher, named Chapman Kelley, liked Bowman's work. Kelley guided him through the year-long project of producing an art portfolio to submit for admission to Kelley's alma mater, the Pennsylvania Academy of Fine Arts in Philadelphia.
Bowman won a full scholarship, then finished with a three-year Artist Certificate in landscape painting and sculpture.
Returning to Dallas in 1970, he opened a studio on Greenville Avenue and staged exhibitions.
"That was when you could rent an old storefront for $50 a month."
"Individuals with damaged French antiques showed up to see my work and some wondered aloud if I might be able to help with furniture repairs and restoration," said Bowman.
The jobs mixed painting and sculpture.
"I backed into the antiques conservation business from landscape painting and sculpture," he added. "For 15-years I had no competitors in Texas. Artists have to make a living and this was a pleasurable pursuit, too."
How did Texans come to have enough French antique furniture to keep a conservator busy full-time?
"People like W.P.H. McFaddin of Beaumont came to trap muskrats during the 19th century fur fashion bubble," explained Bowman. "They made a lot of money on pelts, then purchased land for cattle and made even more money. After McFaddin's Old Spindle Top blew oil heavenward, money practically rained from the sky. The newly-rich wanted expensive things. Back then expensive meant French antique furniture."
Today Texas is bursting with the stuff.
Bowman's first big professional project was to conserve all the antique furniture in the Moody Mansion in Galveston.
Between Greenville Avenue and Galveston, he met and married. His new wife, Sweety, a ceramic artist, teacher and sculptor, suggested they study at Anderson Ranch, an art teaching venue near Aspen, Colorado. While there, Bowman met Jonathan Fairbanks, the Director of Decorative Arts at the Boston Museum of Fine Arts.
Fairbanks encouraged him to apply for membership in the prestigious American Institute of Conservation of Historic and Artistic Works (AIC). A year later Bowman became an AIC Professional Associate. He discovered the Smithsonian Institute's quarterly classes on the many aspects of conservation.
"There are two types of furniture conservation–scientific and artistic," he said.
The scientific nuts-and-bolts work involves quantities, measurements, and weighable products.  The artistic approach is creative work with inexplicable "ah-ha" problem-solving moments.
"The objective of traditional conservation is to replicate and use original supplies and techniques," Bowman said.
To that end, Bowman has a collection of handmade marquetry tools, which are also period pieces.
"Proudly-made from local mesquite wood, which hardly shrinks with age," he added. "The French would make these tools from beech wood."
He obtained the plans from living French masters of the art, then set to work furnishing his shop.
The biggest tool is a Harley-sized and shaped chevalet or "donkey," so named long before the invention of motorcycles, because it resembled a beast of burden.  The ébéniste straddles the wood "saddle" like an easy rider before a sturdy crosswise "handlebar" device that, like an easel, holds the delicate marquetry wood to be worked by a built-in fine saw blade. Think of a jigsaw's ancestor.
Bowman restores old items and constructs period piece reproductions. One customer with four French antique, cane-seat and back armchairs who wanted four mix-and-match reproductions, which Bowman made and carved himself. He had the caning done by a specialist.
All his artwork moves forward in the nearly antique 1938 dairy barn– turned wood shop– at the rear of the Orchard Drive property.
"I offered Gordon Graste, who farmed 60-acres over at Garden Ridge and Main Street, $1,000 for the building, which was scheduled for demolition. During World War II, the two-story structure had served as a flight school.
Graste took Bowman's offer and the old barn changed locations.
"We moved it in two pieces," Bowman said. Today, the building wears bright yellow paint and white trim.
Bowman's physically largest project was a pair of 18' by 16' mahogany doors at the entry to Vineyard Bay Estates on Lake Travis.
"Each one weighs 8,000 pounds," said Bowman. "It took us six-months to make the work table for the construction."
During this month's Guild studio tour, Bowman will display a series of marquetry desks he built from rare and local woods, like satiné, rosewood, mahogany, pear, sycamore and mesquite.
The embellishments are walrus and mammoth tusk pieces, mother-of-pearl and abalone shells, plus gold-embossed fine English leather.  He also handmade a pair of reproduction Louis XIV corner cabinets with marble tops and gilded the doors with cast bronze reliefs. All the furniture is extraordinary.
"They are reproductions of 19th century reproductions of Versailles originals." Bowman said. "The rosewood, burl mesquite and mahogany desk has our typical 15-layers of shellac finish,"
Shellac and varnish are traditional products invented before the plastics in use today. Each thin layer is carefully sanded before another is added. The result is a depth of luster that meets the eye as clear water shielding the marquetry underneath.
You who are Texas-proud won't want to miss Bowman's pear wood jewelry box inset with colored flowers, including iconic bluebonnets.
For more information contact the Alton Bowman Fine Furniture Studio at www.altonbowman.com or call 817-430-3032.
Bowman only shows his artistic creations during the annual Cross Timbers Artist Guild show, held this year on Nov. 10 and 11. Find out more at www.crosstimbersarts.com.