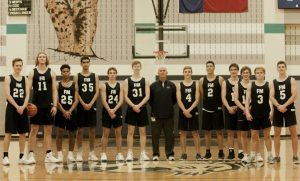 Basketball season has arrived in Texas and the boys of southern Denton County are hoping to make their mark once again.
Schools across the region are gearing up for what looks to be another strong year on the hardwood, and local coaches are confident that their teams will be competitive and beyond.
The Flower Mound boys are coming off of a strong season in 2017-18, finishing 24-9 and as the 5-6A district runner-up.
Coach Eric Littleton said his team was hit hard by graduation last season, but is impressed with the chemistry he has seen from his team early on.
"We lost five of our top seven players off of last year's team," Littleton said. "But our kids are working hard and are a really cohesive bunch."
Littleton said he expects Caleb Lohner (last season's District MVP) and Jeff Mills (first team all-district) to lead the way for the Jaguars this season, and Tyler Stuempfig and Mason Cosby to play important roles as well.
"All four of these guys are great leaders with great attitudes and work ethics," Littleton said.
Flower Mound won their bi-district game against Wylie last season, but came up a little short in the area round against Killeen Ellison.
Littleton said he wants his players to not only exhibit good sportsmanship on the court, but good role models away from the game.
"We focus on being the kind of leaders in our community that reflect the ideals of our basketball program," Littleton said. "Success is measured off the court, not on it."
Over at Marcus High School, the Marauders missed the playoffs in 2017-18 and are looking to get back on track this season.
Marcus will have to overcome the loss of its two best players in 2017, Will Goetz and Xavier Smith, but with realignment should find itself in a more favorable district to qualifying for a postseason position.
With former assistant coach Shane Rogers taking the reins as head coach this season for the Marauders it could be a resurgent year in 2018-19.
For Coram Deo Academy, 2017-18 was a solid year as the Lions finished 15-14 overall and took fourth place in district.
Coach Fonzo Martinez said he is optimistic about the coming season because this year's seniors was the first group of players he coached at Coram Deo.
"I am extremely excited," Martinez said. "This year will be my fourth season coaching at CDA, third as the head coach. So this is the first group I've had since their freshman year. We have big expectations as a staff and as a team. There are five rotation players for us playing football, so it will be extremely important that other players step up, and when football players get back, we get in a groove quickly."
Martinez said he expects Jeremy Vosburg, Max McCalley, and Tanner Gerwig, all of which were all-district selections in 2017-18, to set the tone for his team this season.
"Those three guys will be huge pieces for our team and how far we can go," Martinez said.
Martinez said he also expects major contributions from Gus Sanchez and Noah Taylor.
"As a program, we define success as 'being great at the things we can control,'" Martinez said. "We talk about this every day as a team. This means having great body language, encouraging and loving your teammates and coaches, being selfless, playing with intensity, communicating well with others, and holding your teammates accountable. This creates a deep brotherhood, and what we consider success."
Over in Denton, the Guyer boys basketball team is coming off of a phenomenal season in 2017-18 and is looking to pick up right where it left off this year.
The Wildcats were 38-2 last season and won a district 6-6A championship, and coach Grant Long said he believes his team is poised for another long postseason run.
"We are very excited about the upcoming season," Long said. "We have a very experienced team that has been through it all and is ready to make a deep run at a state title."
Guyer was headed in that direction in 2017-18, advancing all the way to the regional finals before losing to eventual state champion Allen.
The Wildcats are the top-ranked 6A team in the state heading into the season according to MaxPreps, and Long said he has a good core of players returning who should be able to help Guyer vie for a state championship.
"De'vion Harmon, Jalen Wilson, and JaKobe Coles are high level players that have been on varsity since their freshman year," Long said. "They've experienced what it takes to make a deep run and their leadership will be key to our success.  We also have talented younger players in Tyler Mcghie, CJ Luster, and Brayden Bradshaw that will continue our tradition and play key roles this season.  We also have steady seniors in Cadon Hill, Gregg Willis, and Calvin Phillips that will provide us stability at all positions."
Long said for the 2018-19 season to be successful, it will take two things.
"Making our athletes great young men is what we consider success," Long said. "However, success on the basketball side of things will be a state championship."
Down in Argyle, the Liberty Christian boys basketball team struggled last season, finishing 2-12 in district competition.
The Warriors will be under the tutelage of Preston Nadolski, who has coached at McKinney North, Colleyville Heritage, Melissa, and Prosper, and is looking to get the Warriors back on the right track in 2018-19.
For the Argyle boys basketball team, the Eagles finished 30-8 and went undefeated in district in 2017-18, winning the 9-4A championship.
Coach Russel Perkins was hit hard by graduation, but said he still has significant returning firepower along with a mix of younger talent.
"We graduated nine seniors last year," Perkins said. "Six of those players had been a part of our team that made it to the state semifinals in 2017. We lost a ton of experience. Although we will be much younger this year, our kids have worked very hard to improve their level of play physically and mentally as we get ready to start our season."
Perkins said he expects Hunter Lavelle, Max Valentino, Brandon White and Jackson Maupin to lead the team this season.
"These are our returning players with the most experience," Perkins said. "Valentino (6'4" guard) was the MVP of our district last year and named to the all-region team. He has been nursing an injured knee for a couple of months and will soon begin, we hope, working back into shape. White (6'6" guard) was also an all-region selection last year and will join us after a football playoff run after Christmas."
Perkins said his team is capable of a long playoff run and just needs for everything to come together.
"I fully expect us to be a completely different team from the start of the season in November to when we reach district in January and February," Perkins said. "Our expectations have not changed as we incorporate all of this inexperience. It is one of the best things about coaching every year to watch the growth of your team. Sometimes it is subtle, but I think this year everyone who watches us will notice the transformation."