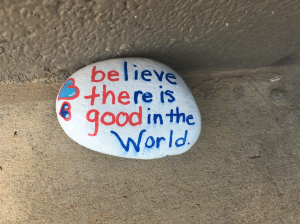 An Argyle woman has brought a trending kindness project to her home community.
Across the country, a growing number of people are painting rocks and leaving them throughout the community for others to find. Most of the rocks serve as vehicles for supportive, positive and encouraging messages. It's a treasure hunt meant to brighten someone's day, and those who find a rock are encouraged to take one and share it with others, to keep spreading the message.
Debra Zitzelberger, of Argyle, said she first heard of the painted rocks trend from her son, who was involved in "hiding" painted rocks in Crowley and Burleson. Zitzelberger eventually started thinking about bringing the trend to her hometown, and it's growing quickly.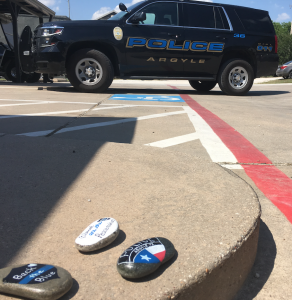 Zitzelberger launched the Facebook group "Argyle Family Rocks" in April, and in May, she left a handful of painted rocks bearing supportive messages for first responders outside the Argyle police station and fire station. Argyle Police Chief Temple Cottle reached out to The Cross Timbers Gazette to say he had no idea who had left them, but "it made my day."
Zitzelberger said she wants to spread positive vibes with everyone, and she especially wants to show support for first responders.
"Personally, I have a loving heart for all military, veterans, police, firefighters and first responders," she said. "I like to spread kindness their way as often as I can and show that our community supports them and the work that they do."
Zitzelberger said she tries to paint 50 rocks each week and hide them around Argyle's restaurants, the Argyle Animal Hospital and the police and fire stations. She's had some of her rocks found in California, Arizona and Utah.
In the Argyle group, which has more than 60 members now, folks paint and hide a rock and post a hint in the Facebook group for others to start their treasure hunt. The group has monthly kids rock painting events at Kimzey's Coffee Shop and a monthly ladies night out. Zitzelberger said she hopes to be able to host a fundraising rock-painting event to benefit the Ranch Hands Rescue nonprofit.
If you are interested in participating in Argyle Family Rocks, click here and request to join the Facebook group. There are many of these groups around the area, including Flower Mound Area Rocks, Rocking Denton County and Denton Rocks! for other local residents to get involved.