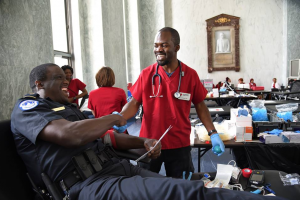 The American Red Cross issued an urgent call Monday for eligible individuals of all blood types to give blood after a difficult Fourth of July week.
Last week, there were 550 fewer blood drives than a typical week around the country, according to a Red Cross news release. Type O in particular is critically needed right now to replenish the blood supply.
"Blood donations are currently being distributed to hospitals faster than donations are coming in – we need both new and current blood donors to make an appointment as soon as possible to help patients battling illness and injury," said Chris Hrouda, president of Red Cross Blood Services. "Unlike many other lifesaving medical treatments, blood donations cannot be manufactured and stockpiled. Red blood cells have a shelf-life of only 42 days and platelets just five days – Each donation, each day makes a difference."
There will be a blood drive this weekend in Flower Mound, according to the Red Cross website. The Red Cross will take donations Saturday from 9 a.m. to 3 p.m. at Trinity Presbyterian Church, 5500 Morriss Road.
Eligible individuals are urged to schedule a blood or platelet donation today by using the free Red Cross Blood Donor App, visiting RedCrossBlood.org or calling 1-800-REDCROSS (1-800-733-2767).
The Red Cross encourages individuals to make a donation appointment and to complete a RapidPass online health history questionnaire to help speed up the donation process. RapidPass can now be completed on mobile devices and through the Red Cross Blood Donor App.
Individuals who are 17 years of age in most states (16 with parental consent where allowed by state law), weigh at least 110 pounds and are in generally good health may be eligible to donate blood. High school students and other donors 18 years of age and younger also have to meet certain height and weight requirements.