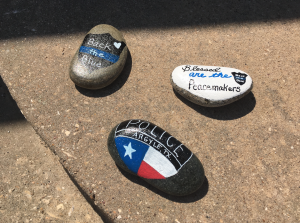 Local first responders received some messages of support delivered in a unique, anonymous way: painted stones outside their buildings.
Argyle Police Chief Temple Cottle said when he returned to work from lunch before noon Tuesday, he noticed several painted stones outside the front door and outside the back entrance with supportive messages and illustrations.
"It made my day when I came in," Cottle said. "We have no idea who did them."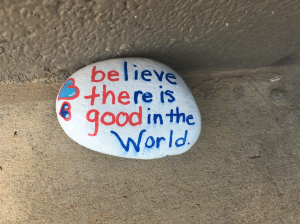 Multiple stones left outside the police department say "Back the Blue," one says "Blessed are the Peacemakers" and another says "believe there is good in the world" with some of the letters written in a different color to reveal a second message, "be the good."
Cottle said similarly supportive painted stones had also been left outside the Argyle Fire District station.
Cottle said it was uplifting for him and other Argyle first responders to see the stones.
"It's nice that somebody thinks enough about us to take the time to do this," Cottle said. "We really appreciate it. Anytime the community shows us care and respect, it's important to us."