The United Way of Denton County's board of directors recently approved more than $200,000 in funding for three local nonprofits and their housing services and programs that benefit low-income families.
At the board's May meeting, the directors approved funding from the newly-established Denton Housing Authority Supportive Services Community Impact Fund to go to Giving HOPE, Denton County Friends of the Family and Christian Community Action, according to a United Way of Denton County news release.
The United Way of Denton County and Denton Housing Authority created the fund to promote economic stability and increase self-sufficiency for vulnerable families in Denton County, according to the news release. Priority was given to applications incorporating bundled, integrative services.
"The programs and services funded by these grants apply a strategic transformative approach to client services," said Gary Henderson, president & CEO of United Way of Denton County. "Success for these grants will be quantified measurement of increased earning capacity of each client with the end goal of moving people from crisis to stability. These programs present an opportunity for eligible clients that is truly life changing."
In collaboration with North Central Texas College, Giving HOPE will receive $125,000 to better alleviate financial crises for single mothers of young children with the implementation of intensive wrap-around services for 10-15 families including education costs, childcare, financial coaching and rental assistance, the news release said. The grant will also provide certification and salary for an Education Navigator at Giving HOPE.
DCFOF will receive $50,000 to expand a piloted transitional housing program to serve additional families and cover costs for childcare, transportation, tuition and training for vocational programs. DCFOF will leverage this grant for additional funding in the community.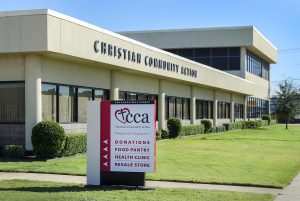 CCA will receive $44,000 to expand services to clients who are at-risk of becoming homeless including childcare, rental assistance and in-person training and web course materials via Financial Peace University Leadership and member packages.
"DHA entrusted United Way of Denton County with these funds to fill the gap of funding for vulnerable families struggling with housing stability," said Debbie Smatresk, Community Investment Chair. "These three organizations help families with bundled services providing effective, integrative support which ultimately leads to self-sufficiency."
Earlier this year, the Denton Housing Authority allocated non-federal funds to the United Way of Denton County for supportive services and programs to benefit low-income families in housing or housing-related programs in Denton County.
Denton Housing Authority CEO Sherri McDade said, "Nobody does a better job in this community of assisting people who need support" than the United Way of Denton County.