After 18-years of volunteer service in Flower Mound, from the Park Board to the Planning and Zoning Commission, current Vice Chairman Mike McCall announced his retirement during the P&Z meeting Monday night.
"We'll be moving down to China Spring [in McLennan County just northwest of Waco], which is like what Flower Mound used to be," he said, with a big smile. "You can all come down to visit."
McCall is retiring from his more than 40-years position as HR and Labor Relations Director at the direct marketing NCH Corporation in Irving, a global leader in industrial, commercial and institutional maintenance products and services. As related to his professional career, he has served as a board member on the Greater Irving-Las Colinas Chamber of Commerce since 2012.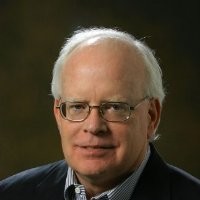 In Flower Mound, McCall served as chairman of the Park Board from 2002 to 2009, guiding the town's parks, trails and athletic facilities [the CAC– Community Activity Center] developments through a $17 million bond package.
Since 2009, he's served as a commissioner and vice chairman, plus as a four-year co-chairman, on the Planning and Zoning Commission.
McCall's longtime service to the town was recognized by fellow commissioners, all of whom echoed Commissioner Laura Dillon, who said: "You've volunteered a long time; thanks for your time and service."
A longtime commissioner himself, Dave Johnson said: "You've been a rock the whole time and I've appreciated your guidance."
Chairman Perfecto Solis summed-up everyone's regard for McCall, by saying: "You've been a consummate professional and have spoken your mind, after knowing the facts."
In other P&Z business, commissioners recommended approval for both the Master Plan Amendment and rezoning requests for the Johnson-Reddy project located on the south side of the Auburn Avenue and FM 1171 (Cross Timbers) intersection.
The property lies within the Cross Timbers Protection Area (CTPA), which consists of those areas within the Long Prairie District where remnants of the Cross Timbers exist, but have been compromised due to the encroachment of rapid and intense urbanization.
The property– the Reddy 5.3-acres (Tract 2 at the southeast corner) includes the Yeager Office Suites of Flower Mound project and the Johnson 4.571-acres (Tract 1 on the southwest corner)– is regulated by additional tree protection standards that were adopted via a Master Plan amendment by Town Council in October 2002 (Ord. 64-02).
The applicant requested replacing the 2002 standards, with the existing PD-72 modified standards for the tree stands, designating them as tree preservation areas. Only dead and diseased trees may be removed in these areas, with no portion of the office developments– including parking lots–allowed to intrude into the tree preservation or drainage areas.
The proposed request included a minimum 40-percent preservation of specimen trees. Commissioner Al Picardi questioned the 40-percent minimum and commissioners agreed, raising the minimum to 60-percent, before a unanimous decision for approval.
Also on the agenda was a request for rezoning the Planned Development District (PD-120)– totaling 27.3-acres– 24.55-acres zoned for single-family (SF-5) use with 2.75-acres zoned for retail district (R-2)– located at the northwest corner of FM 3040 (Flower Mound Road) and Old Orchard Lane.
The approved concept plan shows two retail/restaurant buildings with a public open-space amenity area consisting of existing protected trees and seating area. The request is to amend the concept plans, elevations and (R-2) development standards to allow a day care center.
Representing the applicant, the Goddard School by Greenstone Schools of Austin, was Kevin Patel of Triangle Engineering of Allen, Texas.
"The Goddard School is a daycare facility for children aged six-weeks to six-years-old," he explained. "There are more than 450 schools nationally, with 20 in the Dallas area. All the schools have an on-site owner (franchisee) and an educational director. This [proposed] site will have 14- to 15-staff members and can serve 180 kids [in a 9,760-square-feet building]."
Anthony Natale, president of Grenadier Homes of Dallas, developer of adjoining single-family homes, spoke in favor of the school, "being a good neighbor."
After discussion about fencing, signage and requiring shared parking [42 school spaces and 66-spaces for R-2 uses (retail/office/restaurant)], commissioners recommended approval unanimously.
The Johnson-Reddy and Goddard School projects are currently scheduled to be reviewed by Town Council at its July 16 meeting.