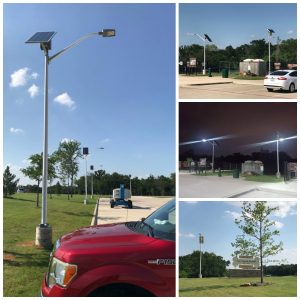 The town of Flower Mound has installed new lights at the Hound Mound dog park, 1202 South Garden Ridge Blvd.
Ten solar-powered LED lights are now up at the dog park, according to a Monday news release from the town. The lights will help visitors enter and exit the park safely, illuminate the parking lot and help people find the entrance.
The lights were partially funded by a donation from the Rawson family in honor of their son, Andrew Rawson, who tragically lost his life when he was struck by a vehicle in December 2016 while riding his bike at dusk along Gerault Road. The 25-year-old Flower Mound resident was a student at the University of New Mexico and was home for Christmas break.