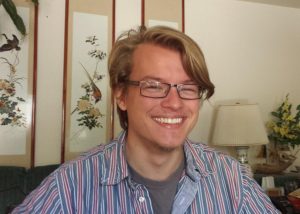 A cyclist was fatally struck by a vehicle Wednesday night in Flower Mound.
Andrew Rawson, a 25-year-old Flower Mound resident, was hit by a car on Gerault Road at Big Canyon Drive around 6 p.m. He was transported to Parkland Hospital via CareFlite, where he was pronounced deceased.
Rawson was visiting home during Christmas break from the University of New Mexico.
The driver of the vehicle was not injured and no citation was issued, according to FMPD.
Andrew's sister, Elizabeth, posted about the accident on Facebook:
"My 25 year old big brother was out on a bike ride tonight. As he was entering our neighborhood from Gerault Rd., he was hit by a car. We don't know anything more than that about the accident itself. But my brother wasn't wearing his helmet.
"He was CareFlited to Parkland. He had a very bad head injury. After the fantastic doctors here at Parkland worked on him, they determined that his brain injury would not be survivable. Further scans confirmed this. My family and I thank you all for your prayers tonight.
"In hopes that others may benefit from this tragedy, my parents have decided to donate whatever organs he has that can be of help to others."
Andrew's mother, Karen, posted the following on Facebook:
"Andrew was riding home to Baker's Branch from Kroger. We believe he was on that dark section of the bike trail the jogs back from the road. He must've looked over his shoulder and thought he saw it was safe, so he didn't stop before attempting to dart across all 6 lanes. (Every cyclist has probably done something similar at some time, right?) And for the quick trip to the store (probably light out when he left on his bike earlier), he didn't grab the new helmet we got him for Christmas. He did, however, have a light on someplace as we recovered it from the scene.
(Notably, there were no other cars involved from either direction; I can imagine Andrew thought the whole road was empty for a long stretch and didn't see the one truck.)
Unfortunately, an employee from the shopping center on the corner on his way home from work, driving the speed limit and with his cell phone put away in the console, could not veer or stop in time to avoid hitting Andrew. Andrew was thrown at least 40 feet across the intersection to the northbound side. Evidently a fire truck happened to drive by just at that time! Their quick action undoubtedly contributed to keeping Andrew's heart pumping so that his organs could be donated.
We'd like to believe the accident was so quick and profound that Andrew was knocked unconscious immediately and died on impact. There was hardly a mark on his body other than the back of his head, so the organs and tissues were preserved. In fact, his bike was repairable. We asked the officer if she could have it repaired and given to someone in need, and she said of course they do that at the PD.
The driver of the vehicle was unhurt and was a great help to the emergency crew. Our whole family feels terrible for the driver, whom we do not know, and we hope he realizes we see this as a tragic accident.
The next day, the PD used sophisticated equipment to analyze the scene. The officer explained to me that the post mortem on accidents helps train the team and makes them stronger for future incidents where the analysis is necessary to determine cause. And perhaps those measurements and images will help make the case for better safety at the intersection on Gerault.
We are humbled by the outpouring of support. The gofundme account, my goodness, overwhelming. All our relatives are coming from out of state and we will cover their travel expenses and all funeral costs from the fund. "Let me know if I can do anything at all" – a friend set up a sign-up form for those little things – laundry, playing with the dogs, airport pick-ups, even fixing a toilet and helping our daughter get her driving permit. Meals are abundant. Volunteers at St. Ann are doing so much for the Memorial Mass.
As for the GoFundMe account, after expenses for which it was intended, our family wants to make an appropriate gift to the town for a recreational feature. Andrew loved riding his bike all over town (with his OLD helmet when he was home over the summer, I'll add). He and I walked many miles, often with his dog Duke, through Gerault Park, Bakersfield Park, and the Hound Mound.
Incidentally, the family of Seamus Meegan, the 17 year old who died in November, are friends of ours. Dad Sean Meegan's birthday party was a couple of days ago and he asked for donations to Andrew's fund in lieu of presents, which we found so touching. We agreed that as both of our sons loved outdoor recreation, we would be sure to communicate with each other and possibly coordinate something for the town, this wonderful community which has been so generous with prayers, services, and gifts of all kinds.
So look at all the good that is following from Andrew's accidental death, in no particular order:
– Possibly a light or safety changes by our neighborhood, and training for our emergency teams
– Organ and tissue donations – life and health for maybe as many as 48 recipients (REGISTER please)
– Reminders for bike safety – ALWAYS, even short trips, wear helmets and obey laws
– The knowledge that the driver was unharmed and there was no one else involved
– A bike for a person in need (and knowing the PD takes them, we will give some others)
– A gift both from and for the community to remember Andrew's love for our trails and parks
– This beautiful feeling of being nurtured by friends and strangers alike in so many ways.
Oddly, the best and worst of 2016 for our family came in the final days of the year. Such support is truly humbling and every message and gesture means so much. Thank you, neighbors."