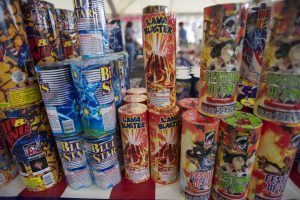 If you want to start the New Year off with a bang, make sure you do so legally and safely.
Most towns in southern Denton County prohibit fireworks, including Argyle, Copper Canyon, Double Oak, Flower Mound and Highland Village.
The Lantana Community Association banned fireworks in 2012 after several grass fires sparked by fireworks threatened homes on New Year's Eve.
Fireworks are allowed in other unincorporated areas of the county and the Town of Bartonville if they are discharged on private property, away from buildings and people.
Bartonville allows residents to use fireworks on their own property as long as the Fire Marshall has declared that it is a Burn Day. To determine if it is a Burn Day, visit the Denton County Emergency Services website or contact them at 940-349-2840.
The Denton County Fire Marshal will patrol unincorporated areas, looking for violations. Residents in those areas can report fireworks violations to the Denton County Sheriff's office at 940-349-1600.
Argyle Fire District Chief Mac Hohenberger said that anyone shooting off fireworks is responsible for damage caused to someone else's property.
If you plan to purchase fireworks to celebrate Independence Day, carefully inspect the packages to make sure that you only purchase legal fireworks designed for consumer use, marked as class 1.4G, said Hohenberger.
Legal consumer fireworks include fountains, cones, and sparklers.
Follow these safety tips when using fireworks:
Never allow young children to play with or ignite fireworks.
Avoid buying fireworks that are packaged in brown paper because this is often a sign that the fireworks were made for professional displays and that they could pose a danger to consumers.
Always have an adult supervise fireworks activities. Parents don't realize that young children suffer injuries from sparklers. Sparklers burn at temperatures of about 2,000 degrees – hot enough to melt some metals.
Never place any part of your body directly over a fireworks device when lighting the fuse. Back up to a safe distance immediately after lighting fireworks.
Never try to re-light or pick up fireworks that have not ignited fully.
Never point or throw fireworks at another person.
Keep a bucket of water or a garden hose handy in case of fire or other mishap.
Light fireworks one at a time, then move back quickly.
Never carry fireworks in a pocket or shoot them off in metal or glass containers.
After fireworks complete their burning, douse the spent device with plenty of water from a bucket or hose before discarding it to prevent a trash fire.