Approximately twenty years before the first shots of the Civil War were fired at Fort Sumter, a young Brit named Robert rode on horseback, alongside his brother, to the unspoiled pasturelands of Louisiana. The recipients of a land grant, they staked their claim and together began to build a life with their budding families.
Fast forward some twenty years, and his son a now grown Robert, Jr. had become a man of the woods, building his home nestled along the bayou, intentionally far away from the earlier settlement his father had created. People speculated that this self-imposed state of seclusion was not only his escape from the world turning upside down in a war he wouldn't support, but mainly because he had also done the most socially shameful act of the times when taking a French wife with his deep British lineage.
Robert, Jr. lived and died by the sword he chose, leaving behind a very pregnant French speaking wife having no way of survival in a world that had formerly been her sanctuary.
Her father-in-law, though previously having rejected the woman who would become the mother of his first grandchild, took her in as his own during his time of grief. She was given entrée into the established settlement and the baby was born.
This newborn baby, Robert III was my great great grandfather. He grew up to be a merchant, traveling to New Orleans often to bring wares back to the land settlement.
It was in one such trip to New Orleans that Robert III met a devout Catholic woman Hannah and her traveling companion cousin Mary. He courted Hannah and brought the two home to the country, taking Hannah as his wife.
In 1905, he built Hannah a home underneath the sleepy moss-laden oaks. It was there that she would give birth to three children Walter, Wallace and Beatrice. But sadly, during an epidemic of scarlet fever, all three of her children went on to Heaven within a 21 day period.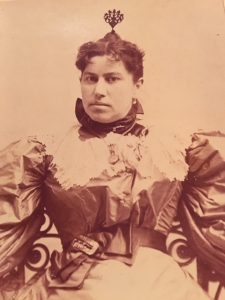 For years, Hannah poured her heart out to God. Because of her prodding, land was dedicated for a pristine white church on the back side of the prairie. Eventually, God heard her prayer and not only was the church built, but He sent her three more children, Ruby, Hilda and Leo. Ruby was my Great Grandmother and the house I grew up in was the historical gem that belonged to her mother Hannah, the very one where the generations of my family have poured forth. I restored the hillside manor in 2011 following my father's death, but never took up permanent residence there.
I tell you this long story, Dear Reader, not to belabor my family history, but to say that we all have people we never knew that impacted our lives through the generations. Though I never knew any of these people with the exception of Great Great Aunt Hilda and Great Great Uncle Leo, I believe I can point out the ways I was impacted for the good and bad by the decisions they made and the part of the legacy they left behind.
Last week, I made the trip toward home for what will likely be the last family gathering of this entire extended branch of my family when my Granny's first cousin Craig passed away. Relatives from places like Minnesota, Pennsylvania and Texas came in to celebrate the life of this Purple Heart POW.
After the full military honors had been given and taps was played, we gathered in the church hall bearing the family namesake for the customary benevolent gumbo. We said "keep in touch" to the cousins we had seen only once or twice a year in our lifetimes and vowed to stay connected.
But I believe we all knew that we would not be passing this way again together. As we drove away, the home of Hannah and Robert was left behind silent once again, as well as the altar cloths she tatted and the original church pew she purchased in the little white church. I know life is all about looking forward, but for that particular day I so yearned to know the people I never knew. I was confident of this one thing, that someday I would be the someone that people never knew and prayed to God that I would make a difference for the good.