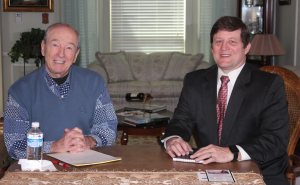 As the March 6th primary starts to close in on us, I'm busy interviewing as many people as possible before the window closes in early February. With other writing assignments and personal commitments ahead of me, I may not be able to cover all the candidates in the several positions being vied for. I don't seek out the candidates, but, if they contact me and request an interview I'll oblige them for the next few weeks. In the Justice of the Peace race in Precinct 3, there are 3 candidates, namely, Bill Lawrence, James Kerbow and Sherman Swartz. Several months ago I interviewed Mr. Lawrence. In my most recent interview, Sherman Swartz talks about his background and his reason for running for JP. The following is from information he sent for this article:
"Sherman Swartz is an accomplished attorney, advocate and father of four. Sherman has earned his law degree from Baylor University. Since then his private practice has included service to large and small businesses, individuals, serving as outside counsel, and pro bono work. Sherman has served as a Denton County Republican Precinct Chairman, on the DCRP BoD, was a delegate to the State Convention and has volunteered in many capacities for the party.
"Sherman has provided free legal aid for seniors, students at UNT and people in need at Christian Community Action. He was member of the LISD Technology Committee. He is on the Lewisville High School Killough Business Leadership Team. Sherman and his wife, Brenda, are raising four children who attend Lewisville ISD schools. Ava dances Ballet, Richard runs cross country and Logan graduated from Texas Tech and is to attend Kings College.
"Steven mustered out of the Army as a sergeant and was 2012's Army Times Soldier of the Year. He graduated from NT and Johns Hopkins. Sherman is a native Texan, living in the Lewisville area over 40 years."
Bob Weir is a former NYPD officer, long-time Flower Mound resident and former local newspaper editor.