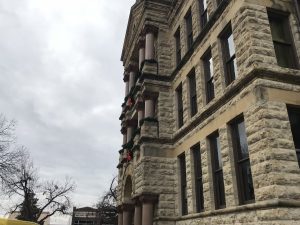 Four Republican candidates have filed to replace current Denton County Precinct 4 Commissioner Andy Eads, who is a candidate for Denton County Judge.
Precinct 4 encompasses the southwest quadrant of Denton County, including Flower Mound west of FM 2499, Argyle, Lantana, Northlake, Robson Ranch and surrounding areas.
The Commissioner's Court is responsible for the overall governance of the county, setting the yearly tax rate for the County's budget, which includes: rural ambulance service; subsidizing rural fire protection; establishing long-range plans for thoroughfares; open space land use; financial and law enforcement/jail needs; approval of subdivision platting; wastewater treatment for rural areas; and, a host of other responsibilities.
The winner of the March 6 primary, listed below in alphabetical order, will face Democrat Bryan Webb, who is running unopposed, this November.
Jim Carter
On Dec. 11, Jim Carter of Bartonville filed for the position he held from 1999-2006. He lost his re-election bid in 2006 to Andy Eads.
"This precinct was unproductive until I was elected," Carter said. "Andy Eads and I, for 20-years almost, worked too hard to let it go back."
Prior to serving as Precinct 4 Commissioner, Carter helped incorporate the town of Trophy Club and served as its first mayor from 1985-99. He has worked as a consultant since leaving office in 2007 and serves on the ESD #1 board.
Carter pointed to his background in development and construction is needed to address the population boom in Precinct 4.
"I see a tremendous amount of development in the western side of the county, which is our future," he said in an interview. "This is one of the fastest growing counties in the United States and we need experience to manage that. This is not a learning experience."
Dianne Edmondson
Dianne Edmondson is seeking her first government office following decades of service to the Republican Party, including serving as chairwoman from 2002 to 2015.
Edmondson, a Robson Ranch resident, cited her strong business background, political experience and conservative Christian values as driving forces in her decision to run, according to a press release.
"The month-long filing period allows potential candidates like myself to spend thoughtful time deciding if public service is the right path," Edmondson said in a prepared statement. "The encouragement I received, coupled with the unwavering support of my husband, convinced me this was the right course to take for me to continue serving Denton County."
Edmondson added that she will prioritize attracting jobs to Denton County, eliminating waste and fraud in government and supporting law enforcement.
"Economic development that keeps rising property taxes in check is paramount," she said. "I will look for ways to trim the fat and, of course, I will strongly support law enforcement efforts to keep Denton County residents safe."
Edmondson will also demand excellent road upgrades and repairs.
"Commissioners and roads go hand-in-hand," she said. "Listening to citizens will help me represent them effectively on the Commissioner's Court. I'll have big shoes to fill with Commissioner Eads moving on, but I am ready for the challenge."
Edmondson and her husband, Bob, have two grown children and seven grandchildren.
(Video interview will be posted soon)
Itamar Gelbman
Itamar Gelbman served a single two-year-term on the Flower Mound Town Council. He also ran unsuccessfully in the 2012 election for the U.S. House, representing Texas' 6th District. He was defeated by incumbent Joe Barton in the Republican primary in May 2012.
The high point of Gelbman's time on Town Council was on Dec. 22, 2016, when a Denton County Grand Jury returned a decision not to indict Gelbman on a charge of violating the town's Home Rule Charter Ethics Code.
Gelbman is a member of many Republican clubs and serves on the young leadership board of the Republican Jewish Coalition. He is a NRA life member and an active volunteer with the Gary Sinise foundation, building smart homes for severely wounded soldiers and supporting First Responders.
Gelbman kicked-off his candidacy on Nov. 6 with a fundraiser.
Among the issues Gelbman emphasized on his campaign website are fiscal accountability and transparency.
"I will demand to start an audit committee that will be compromised of Denton County residents with accounting and forensic accounting background," stated Gelbman. "This committee will be able to assist the Commissioners and department heads to implement better policies and procedures and to make sure every department in the county is accountable to you, our boss."
Brenda Latham
Brenda Latham, former Lewisville ISD Board of Trustees member (2010–2016) filed to run for Precinct 4 Commissioner on Dec. 4.
A project manager, she and her family recently relocated from Lewisville to Bartonville. Latham said that she has lived in Denton County her entire life.
"The commissioners' responsibilities require someone with experience," said Latham.  "Someone who has the ability to work with the other commissioners on the court, property owners and business owners.  Someone with a record of conducting business with integrity and is 'solutions oriented;' I am that person."
Latham added that her proven track record of being fiscally responsible and working with others to do what is right for those she's represented, plus her service to LISD will lend experience to the position of commissioner.
"My passion is to represent the citizens with conservative policy initiatives which are fiscally responsible and proactive to keep Precinct 4 ready to meet the future with solid transportation projects being carried forward; a judicial system which responds to the needs of the citizens; and, an ear to hear from citizens on how to improve the quality of life in Denton County."
The Primary Elections will be held on Tuesday, March 6.  Early Voting runs Tuesday February 20 through Friday March 2.