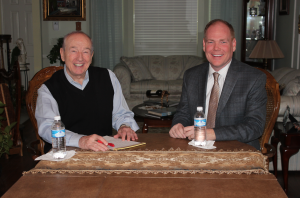 By Bob Weir
As I've written many times in the past, the best communities to live in are those in which residents are actively involved in numerous areas of local improvement. Whether it's the quality of the schools, the crime rate, the updated infrastructure or the tax base; it's vital that people are diligent in their pursuit of honest government and the furtherance of good will through charitable giving. Being actively involved means keeping up with the latest proposed legislation in your town, city or county. It means making your opinions known at official functions like town/city council meetings and/or county level gatherings where elected officials make decisions affecting your future. Additionally, you might participate by writing letters to newspapers or posting some well-chosen comments on social media.
Another very valuable contribution to the body-politic of your area is becoming a discerning voter. That means paying close attention to those running for office in your orbit and learning about them before you cast those ballots. Studies indicate that most people only pay attention to politics on the national, and to a lesser extent, state levels. Although those races may be more entertaining, the fact is that the closer those campaigns are to where you live, the more impact the ultimate victors have on your life. Therefore, do your homework and choose those leaders carefully. The reason I do these interviews is to give voters a close-up look at the people who may be governing them.
Denton County Commissioner Andy Eads has served on the Commissioners Court for the past 11 years and is now running for Denton County Judge. Judge Mary Horn, who has served with distinction in the position for the past 16 years, is retiring at the end of 2018. Judge Horn has endorsed Eads to replace her on the bench. With no other Republican on the primary ballot in March 2018, Eads will have the nomination, and, given the dominance of GOP voters in the county, he is almost certain to be elected. In the video, Commissioner Eads talks about his vision for Denton County going forward. The following info is from his campaign web page: www.andyeads.com
Commissioner Andy Eads is a native Texan and fifth generation resident of Denton County. After graduating from Liberty Christian School, he received his BBA from Howard Payne University and his Masters of Public Administration from the University of North Texas.  Commissioner Eads has served on the Denton County Commissioners Court since 2007. He serves as Denton County's Representative to the Regional Transportation Council; Cross Timbers Rotary Club Founder and Executive Board; Board President of the Lewisville ISD Education Foundation; Board of Directors of United Way of Denton County; President of Denton County Housing Finance Corporation; Representative to Northwest Community Partnership; Board of Directors and Chairman Emeritus of the Flower Mound Chamber of Commerce; member Denton County Historical Commission, and Chairman of its Museums Committee; Denton County Master Plan Committee; Metroport Cities Partnership; Trustee of The Mound Foundation in Flower Mound; and Serve Denton Advisory Board.
Past community involvement includes Founding President, Cross Timbers Rotary Club; President, Communities in Schools of North Texas; President, Denton County Historical Park Foundation; President, Flower Mound Rotary Club; President, Denton County Republican Men's Club; Board Member, Greater Lewisville Family YMCA; and member of the Trietsch Memorial United Methodist Church Missions Committee.
Commissioner Eads began his public service career at the Town of Addison where he researched and authored the book "Addison, Texas: A Pictorial History." Prior to elected office, he was a top-producing agent with RE/MAX DFW, where he earned the Rookie of the Year Award and was repeatedly voted one of the Best Realtors in DFW by D Magazine.
Commissioner Eads lives in Flower Mound with his wife Ginger and their children, Everett, Addison and Caroline. He enjoys volunteering and camping with his boys' Scout Troop.
Bob Weir is a former NYPD officer, long-time Flower Mound resident and former local newspaper editor.