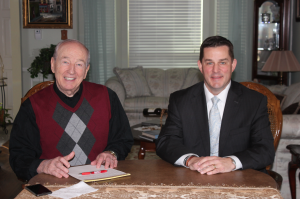 By Bob Weir
Among many other Denton County political races in 2018, a judgeship for Criminal Court #3 will be competed for by Judge David Garcia, the incumbent running for reelection, and his opponent, Forrest Beadle, the Chief Felony Prosecutor, 367th Judicial District Court and Veterans Treatment Court Prosecutor. Garcia and Beadle will be running for the Republican nomination to the court in the March 6, 2018 primary. In the interview, Mr. Beadle talks about his reasons for running for the position currently being held by Judge Garcia. The following info comes from Mr. Beadle's website: www.forrestbeadle.com
"Whether it's as an Assistant Denton County District Attorney or as a Captain in the United States Army, Forrest Beadle's life has been dedicated to public service and his community. He has been tested, in and out of the courtroom. He has the experience for this job, the work ethic, the passion for the law and the character we need in our judges in order to protect our Constitution and our families. Born in Denton, Forrest served in the United States Army for six years as a tank officer; obtaining the rank of Captain. During his time in the Army, he was a Battalion Operations Officer, an Assistant Operations Officer, a Company Executive Officer, a Tank Platoon Leader, and a Mechanized-Infantry Platoon Leader.
"After completing his service, he went to work briefly for Orion International, a firm that helps veterans find work in corporate America after they leave the military. Forrest Beadle then enrolled in law school to begin a second career as a prosecutor. Upon receiving his J.D. from the Texas Tech School of Law in 2005, Forrest went to work for the Denton County District Attorney's Office. His tenure in the D.A.'s Office has included work as the chief felony prosecutor in the 367th District Court and the 16th District Court, as well as the chief felony DWI prosecutor. He has also been the chief prosecutor in charge of the Denton County Veterans Treatment Court Program since 2009.
"Outside of the courtroom, Forrest has served the Denton County Republican Party as a Precinct Chair and an Area Precinct Chair Leader. He is also a graduate of Leadership Denton.
Additionally, Forrest is active in American Legion Post 71 in Denton, serving as First Vice-Commander, Judge Advocate, and Americanism Chair for Boys State. In 2015, he was the recipient of the Congressional Veteran Commendation by Congressman Michael Burgess.
Forrest met his wife, Jill, while attending Texas Christian University. Jill also served as an officer in the Army Nurse Corps, later worked as an emergency room nurse, and today she is the Administrator of the Day Surgery Center at Medical City Denton. Forrest and Jill are the proud parents of two young daughters, Abby May and Molly Jean."
Bob Weir is a former NYPD officer, long-time Flower Mound resident and former local newspaper editor.