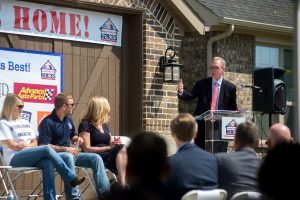 by Brian Maschino, Contributing Writer
Hundreds of supporters from around the budding Harvest community gathered to welcome its newest family, retired U.S. Army Sgt. Kody Wilson, a Purple Heart recipient, with a mortgage-free home on Saturday, Sept. 9.
Initially being announced as the recipient of the home in the growing Northlake community at a ceremony on March 25, the family was greeted at their welcoming ceremony with two flyovers and a parade.
"It's amazing; I mean, does your house look like that?" asked Wilson, standing with his wife, Laura, after their first home walkthrough. "The ceilings, everything fully furnished, matches the colors – it's our style."
An Iraq veteran who served two tours, in 2005 and 2007, Wilson's left leg was amputated after an IED hit his platoon. Following his physical recovery, Wilson still suffers from anxiety disorder, post-traumatic stress disorder and hearing loss.
Dealing with the mental effects of combat and adjusting to life since losing his leg, Wilson is grateful for a home specifically modified to fit his needs as an injured veteran.
"No day is a promised day," he said. "When I put on my leg, I'm gimping around, got a sore on my leg or whatever. The roll-in showers, the wider doorways, just how open the house is, it's a lot easier."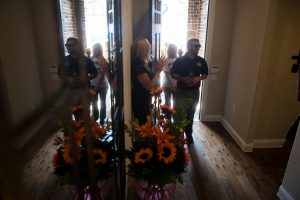 The home was donated by the nonprofit Building Homes for Heroes– a veteran's organization that provides support to service members and families– in partnership with Highland Homes and Ross Perot, Jr.'s, Hillwood Communities.
"The least that we can do is to invite you into our community of Harvest, and let you raise your family here," said Perot, addressing Wilson during the ceremony. "We love each other, we help each other, we care for each other and we defend each other. Kody, thank you for defending us."
This is the second home donated in the Harvest community, which already has a growing veteran population.
"The comradery in the neighborhood I think is what's really attracted us," said Laura, Kody's wife.
The Wilson's are moving to the community from Laura's family is from, Marble Falls.
A Kansas native, Wilson said the community is a perfect fit, being midway between their two families. Being in a young community has Wilson looking forward to his own young family's future.
"Words cannot describe our appreciation," Wilson said. "To not to have to worry about rent and the kids will actually have a place to call home."