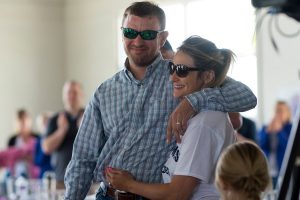 On Saturday, March 25, Building Homes for Heroes surprised Army Sergeant Kody Wilson, his wife, Laura, and their three children with the announcement that they will receive a ground-up, mortgage-free home in the Harvest community in Argyle.
Building Homes for Heroes provides mortgage-free homes for wounded military veterans.
Wilson, a recipient of the Purple Heart and the Iraq Campaign Medal, was severely injured by an improvised explosive device in Iraq, which led to the amputation of his left leg.
"This is going to be the first time that I feel like I'm planting roots and now that I have a family to support, it's going to relieve a lot of stress," Wilson told NBC 5.
Wilson's home will be constructed by Highland Homes and David Weekley Homes on land donated by Hillwood Communities, a Perot Company. He expects to move into his new home this August.
Army Sergeant First Class Randy Nantz, who joined the Army at 33-years-old and went on to earn the prestigious rank of Green Beret also received a mortgage-free home in the Harvest community this year, courtesy of Hillwood.
Also among the honorees at the event were the three dozen veterans who currently live in Harvest.