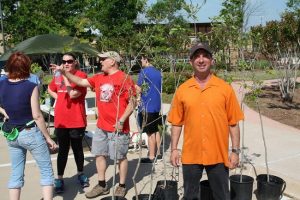 Lantana residents can purge unwanted items and responsibly dispose of hazardous household waste in the coming weeks.
The Spring Community Garage Sale and Lantana Earth Day event are both in April.
Residents can hold garage sales in their driveways on Saturday, April 8, from 8 a.m. to 3 p.m.
Register to participate by calling the Lantana Community Association office at 940-728-1660 by 6 p.m. on Thursday, April 6.
Green up at Lantana's annual Earth Day event on Saturday, April 22, from 9 a.m. to 12 p.m. in the North Amenity Center parking lot.
Organized by Denton County Fresh Water Supply districts #6 and #7, the event allows residents to safely dispose of hazardous household waste and learn about planet-healthy lifestyles and habits.
In addition, residents will be able to drop off bulk items, like couches and mattresses; recycle computers, electronics and appliances; safely dispose of prescription and over-the-counter medications; shred documents; and even donate unused lawn equipment.
Call 940-728-5050 for more information about Earth Day.