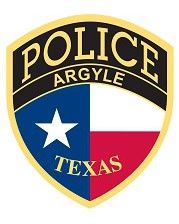 The following is a summary of incident reports recently made to the Argyle Police Department as compiled by the staff of The CTG:
On Dec. 26, at 6:30 p.m., a 911 call came in from a driver in the 200 block of E. FM 407 saying he'd almost hit a parked patrol car on the side of the road. The caller said he drives partially on the shoulder of the road, because he's worried about being hit by oncoming traffic.
PointBank at 302 N Hwy 377 reported suspicious activity on Dec. 27 at 10:53 a.m. A male with a beard, glasses, a hat and carrying a satchel said he was a fugitive and had passports with him in a car outside. He had tried using the ATM to get cash from a frozen account and tried to use a computer to find foreign accounts. There was also a couple sitting in a white hatchback Subaru who had tried to get in the bank through locked doors. No further information was noted.
A burglary on Dec. 27 at 11:48 a.m., was reported from a locked residence on Ranch Rd. Stolen was stair material; this was the third break-in and theft at the location.
On Dec. 30 at 1:20 p.m., an officer observed a woman "running frantically down the street and a man standing in the yard." Turned out she was chasing the couple's dogs.
Gun shots were heard on Country Club Rd. at 5:20 p.m. on New Year's Eve. Multiple reports of fireworks from Argyle High School, Chisolm Trail, Whispering Trails Dr., and Harrison Ln. were also received on New Year's Eve.
On Jan. 4, between 6:11 and 6:18 p.m., multiple calls came in from Country Club Rd. about a loose black cow. Despite the cow's popularity, the responding officer could not find it.
A resident of a home on Country Club Rd. stated she had denied a realtor from again requesting to show her home. She wanted police to be aware of the situation and stated she was going back to guard her house.
On Jan. 4, at 5:30 p.m., a caller who'd been walking in a neighborhood reported being chased by a dog. The caller ducked inside the Yogurt Station and said he hadn't been bitten; just chased when he started to run.
On Jan. 5 at 1:25 pm., a dispute arose between a homeowner on Creekside Trl. and the foreman of a construction company over utility easement boundaries and the resulting need for yard repairs. The issue was explained and resolved.
Later that day, a resident complained of inhaling carbon monoxide as the result of Charter Communications drilling through a gas line while attempting to put in a cable line on Creekside Trl. CoServ shut off the power from Country Lakes to Meandering Creek until the gas line could be clamped two-hours later.
The next day, a noise complaint was reported from the same address. The caller complained that a crew from Charter Communications had been in the area for a month, had broken a gas line the previous night causing a power outage by a "bunch of boobs." The caller said he'd asked the workers to stop and they said "no." He said he wanted to "go out there with a knife and cut their air hoses," because it shakes his house when he's trying to sleep. He was advised not to do that.
A call reporting a sick-looking raccoon in a yard on FM 407 on Jan. 7 at 11:36 a.m. prompted a call-back from All American Dogs to deal with the animal.
Later that day at 4 p.m., a caller from Stonecrest Rd. reported that three stray dogs—including a pitbull and a lab—had gotten into an enclosure and killed one lamb, mauled another lamb whose ear was missing, and were now after a horse.
On Jan. 9 at 3 p.m., a caller on Stonecrest Rd. reported seeing the three stray dogs and the officer contacted All American Dogs.
On Jan. 9 at 4:50 p.m., a caller with kids in her car reported being followed after leaving the Chick-fil-A drive-thru by a woman hanging out of her window yelling and raising her middle finger. She said that she had been followed for almost five miles. The officer made contact with the suspect and reported: "She had a Chick-fil-A bag in the front seat. She denied everything. She asked if she needed to call a lawyer. She wasn't very cooperative."
On Jan. 11 at 8:15 a.m., a call came in reporting a woman holding up traffic in the area of Hwy 377 and Frenchtown Rd. The woman was in the roadway chasing a turkey to keep it from being hit, but it kept running back into the road. When the officer arrived, there was no woman or turkey.
On Jan. 15 at 9:45 a.m., a driver stopped to alert an officer that a turkey was on Hwy 377 stopping traffic. When the officer arrived, the turkey flew over the train tracks and eluded capture.