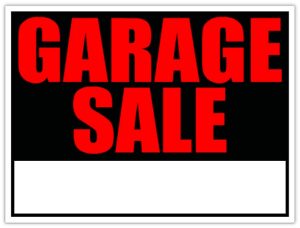 With many residents in the spring-cleaning-mindset, it's not uncommon to see garage sales start popping up around town.
If you're interested in having a garage sale in Flower Mound, there are a few things to keep in mind.
First, garage sales do not require a permit, however they cannot last more than three days, and each household is only allowed two sales per year.
Garage sale signage also does not require a permit, but keep in mind signs can only be placed on private property no more than 24 hours before the start of the sale, and signs must be removed within 24 hours of the sales conclusion.
Sale signs that are displayed on public property will be removed by Town Code Enforcement staff members.
If you would like additional information, or have questions about garage sales, call Code Enforcement at 972.874.6340.