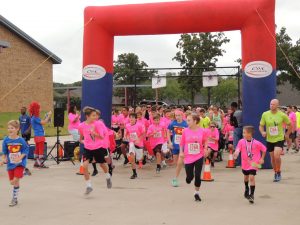 Lots of residents in and around Argyle are getting ready to "sock it to" muscular disease and race in the Argyle Run for our Sons.
When Corbin Fanning was 4 years old, he was diagnosed with Duchenne muscular dystrophy, a genetic disorder that causes progressive muscle degeneration and weakness. It primarily affects boys and symptoms usually arise between the ages of 3-5, according to the Muscular Dystrophy Association.
The outlook for boys with the disease isn't good, said Corbin's mother, Amy Fanning.
"Most boys are in a wheelchair by the age of 13," Amy said. "Most of them don't live past their early 30s, and that's after some recent medical advancements."
Corbin is now 13 and has lived in Argyle since he started Kindergarten. Amy said the local community has been supportive or Corbin and other boys who live in and around Argyle with the disease. About five years ago, Amy was approached by Doug Hollenshead, an Argyle resident and runner, who asked if she'd like to get a charity 5K going.
"This 5K really got its start about three years ago when Doug attended another fundraising event — a dinner, concert and auction – in Argyle for this same cause," said Katie Lentini, the co-chairwoman of the race, in 2013. "He was in awe of the attendance at – and support of – the event. Over the subsequent two years, the community gave phenomenal support to both Parent Project Muscular Dystrophy and our local citizens affected by this progressive muscle disorder."
The fifth annual Argyle Run for our Sons charity event benefits Parent Project Muscular Dystrophy, a nonprofit dedicated to families with sons affected by Duchenne Muscular Dystrophy.
The event will kick off at 8 a.m. on Oct. 14 with a 1-mile fun run, followed by the 5K at 8:30 a.m. The race starts at Hilltop Elementary School, 1050 Harrison Lane, and winds through the older streets of Argyle.
"It's a challenging run," Amy said. "There's quite a few hills."
Runners are encouraged to wear their craziest Argyle socks "to sock it to" Duchenne.
Amy Fanning said it's critical to raise money for research as soon as possible.
"Time is of the essence for these boys," Amy said. "There are several drugs in the pipeline that would help all the boys with this disease, but they haven't been passed by the FDA.
"The clock is always ticking."
Click here for more information about becoming a sponsor or running in the race.