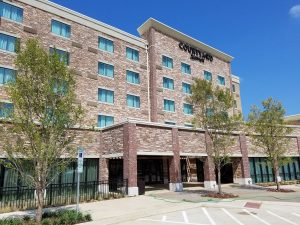 "Today, we had our final inspection and the Marriott training will finish this week," said Amy Henrickson, general manager for the Courtyard by Marriott Hotel at The River Walk, in an interview on Tuesday. "We're 100-percent staffed and ready to go."
The five-story hotel to open on Sept. 29 features an indoor swimming pool, fitness center and guest laundry, and offers over 9,000 square feet of meeting space to accommodate functions of up to 400 people as well as on-site catering. The Trinity Ballroom, featuring Riverwalk views is a perfect venue for a wedding reception or corporate event.
Henrickson shared the updated timeline for Flower Mound's first hotel, following Monday night's Town Council approval of amendments clearing the way for the hotel to open prior to completion of a required parking garage.
The garage itself, however, is to provide parking for the medical facilities to its north, as well as the future retail and restaurant buildings south of the hotel.
Flower Mound Town Council passed the first amendment for the original Development Agreement (DA) with RMI (Rainier Medical Investors) River Walk Investors outlining specifics for parking structures, which required location corrections. In addition, the DA stipulated that a Certificate of Occupancy (CO) cannot be issued for the hotel until the parking garage is finished.
However, a companion Chapter 380 agreement second amendment provides issuing a CO for the hotel upon its completion, while the garage is being built.
Economic Development Director Andrea Roy told the council that all incentive payments and rebates provided under the Chapter 380 Agreement will be placed on hold, until such time as the parking garage is complete; set to be March 15, 2018, plus a 30-day "act-of-God" extension. The incentives/rebates involved total approximately $3 million, including: rebates for the hotel occupancy tax; reimbursement of impact and building fees; real and business personal property taxes; and, sales tax. It also cancels the town's $1 million investment in the garage.
"Forfeiture of the incentives seems like a substantial inducement to do this," said Mayor Tom Hayden.
During his presentation to the council, Daryn Eudaly, principal with New Era Hotels & Resorts (developer for the Courtyard by Marriott) said that future building projects are the real incentive for him to get the garage completed.
Still on the RMI River Walk Investors/New Era yet-to-be-built pad sites are more medical and office buildings, as well as retail/restaurant buildings.
"I can't build any of these four buildings without that garage, because I don't have any surface parking," said Eudaly, who is also executive vice president of RMI. "So, I am motivated to build those buildings and fill those buildings and not pay taxes on land that I've been paying on since 2010."
Eudaly is hoping the three-story, 416-space garage to be competed well before the deadline set by council on Monday.
"We're not looking at March 15, [2018] or even a Feb. 15 date," he said. "We want to finish this garage by Jan. 15."
Having sections pre-cast and built off-site has helped move the garage construction forward.
"We've done a lot of work to try to streamline this," he said. "It's about a five-month build time. We started in August and we're slated to finish the first week of January, pending any issues with weather."
He added that Hurricane Harvey had a slight impact on the Houston-based facility doing the masonry work, "but it's moving" and are expected to be delivered in October; and, that 64 of the 83 construction piers are already in-place.
Council member Bryan Webb said he supported the two amendments, because they help move the town's first hotel forward.
"This is just a little bit of bookkeeping to clean-up some language to allow things to flow on through," Webb said. "But again, we're getting what we wanted, which is the parking garage and the hotel."
Henrickson and her staff are eager to welcome Flower Mound residents and visitors.
"We have sufficient [surface] parking in our surrounding area and the Sept. 29 opening is really our 'staff' opening," she said. "We'll get to make sure all of our services and areas like our catering facility are working properly."
The hotel's grand opening celebration is tentatively set for Nov. 15. It should be quite a party.